'Brooklyn's Finest' Trailer directed by Antoine Fuqua, starring Richard Gere, Ethan Hawke, and Don Cheadle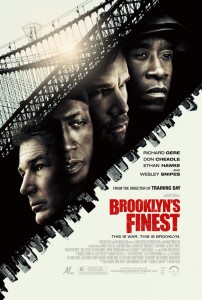 Antoine Fuqua is a very hit or miss director. He has one critically acclaimed film under his belt, Training Day. Pretty much everything else has been panned by critics and audiences alike. So, it seems fitting that he seems to be going back in the direction of the type of film he won people over with. Brooklyn's Finest looks like he took equal parts Training Day and The Departed, let them swill around in his head for a bit, and quickly called "Action!".
The film looks good, and there is no doubting that Fuqua has a good eye for visual flair, but can he deliver the story? He's working with a great cast, but juggling this many characters might prove to be difficult. Let's hope for another gritty crime drama to praise this spring.
Synopsis:
Richard Gere, Don Cheadle, and Ethan Hawke star in this cop drama from director Antoine Fuqua and Millennium Films. The story surrounds three Brooklyn cops from varying sides of the force who unknowingly converge together at a hot crime spot. ~ Jeremy Wheeler, All Movie Guide
Cast: Richard Gere, Don Cheadle, Ethan Hawke, Wesley Snipes, Ellen Barkin
Director: Antoine Fuqua
Genres: Crime Drama, Crime
Release Date: March 5, 2010