'Bridesmaids' Now Out on Blu-ray/DVD! Enter to win a FREE copy!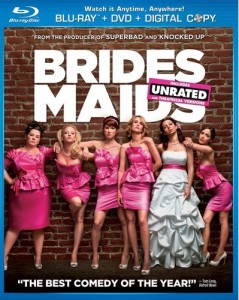 Annie's life is a mess. But when she finds out her lifetime best friend is engaged, she simply must serve as Lillian's maid of honor. Though lovelorn and broke, Annie bluffs her way through the expensive and bizarre rituals. With one chance to get it perfect, she'll show Lillian and her bridesmaids just how far you'll go for someone you love.
Starring: Kristen Wiig, Rose Byrne, Chris O'Dowd, Maya Rudolph, Ellie Kemper
Directed by: Paul Feig
Read our review of Bridesmaids here.
Enter for a chance to win a FREE copy of Bridesmaids on DVD! In order to enter the contest, become a fan of ReviewSTL on Facebook. Then click the "share" button under the post, and tell everyone why you have to own the movie! NO PURCHASE NECESSARY. PLEASE REMEMBER TO READ THE RULES!
Good luck! And don't forget to pick up your copy of Bridesmaids on Blu-Ray and DVD Today!
[hdplay id=286]