Book Review: "This is a Book" by Demetri Martin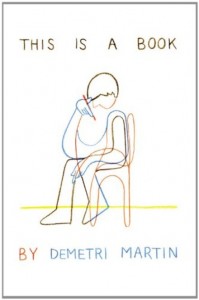 This is a Book is Demetri Martin's first attempt as an author. And it reads just as his stand up comedy would, with short stories or one-liners in each chapter that makes the reader laugh out loud. Each chapter is independent from the others, which gives the option of taking the book a little at a time instead of feeling as though it needs to be finished all at once.
Martin is an author, actor, artist, musician, and comedian. He is best known for his stand up specials on Comedy Central. He also starred in the 2009 comedy/drama Taking Woodstock and a short run television series on Comedy Central called Important Things with Demetri Martin.
Martin has an unconventional style to his comedy. He often uses deadpan one-liners and music to accompany his jokes.  He also is commonly seen with a large notepad, which he uses to draw out pictures to use as inspiration for jokes. Martin's comedy style has been compared to Mitch Hedberg and Steven Wright.
I was a little hesitant about whether or not I would enjoy this book. I am a fan of Demetri Martin and love his use of drawings, music, and facial expressions to bring his jokes across to the audience. As a result, I was not sure if just reading his stories would be enough to make me laugh. However, I caught myself giggling like a school girl more often than expected.  Martin's humor is evident in the first few pages as the dedication is "For you" and his description on How to Read This Book, which is "If you're reading this sentence then you pretty much got it."
He continues with hilarious stories, such as "Megaphone" about a guy who is gifted a megaphone and feels as though he must constantly use it, "The Robot Test" (which I may have failed), and "Cat Calendar" a story about a calendar made for people who hate cats. There are also plenty of short jokes, such as "Question: What do you get the man who has everything? Answer: A conscious. That guy is so greedy." And "100% of people who give 110% do not understand math." Martin even adds in a few chapters of drawings, graphs, and charts, which made me very happy since I enjoy his drawings the most.
However, with every good joke there is a bad one. When Martin attempts to go into more detail and make longer stories, they just seem to drag on and get boring. I found myself yawning at the longer chapters, such as "Sheila" about a man who falls in love with a ghost and "Goreburg and Spatz" about two scientists making a time machine. Martin's humor does not come out as well in the longer stories as it does in the short ones.
This is a Book is entertaining, for the most part. The majority of the chapters are funny and a good read. If Martin sticks to the shorter stories with his infamous one-liners and drawings, he can become as accomplished an author as he is a comedian.
This is a Book is a B-.