Blues Trade Lars Eller and Ian Schultz for Canadians Goaltender Jaroslav Halak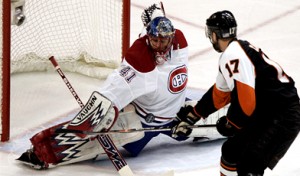 The first thing I thought when I heard the Blues had acquired rights to Canadians goaltender Jaroslav Halak was, "How angry are Canadians fans up in Montreal?" For those of you who don't watch much hockey, Halak was the golden boy of the playoffs for Montreal. The 25 year old goaltender led the Canadians through a series of upsets, and quickly became a fan favorite.
In the trade the Canadians get Blues prospects, Lars Eller and Ian Schultz. Eller has long been touted by Blues fans as a potential all-star, and scored twice is seven appearances last year.  Schultz, who is the brother of Capitals' player Jeff Schultz, is currently playing in the WHL for the Calgary Hitmen.
So, who got the better end of the trade? St. Louis wins through and through with this one. Everyone in the trade is unproven in the long run, but Halak has definitely proved himself capable of being a franchise goalie. Eller and Schulz are almost completely untested. Eller has problems with injury, which could become a problem down the road for the Canadians. Schultz looks like he might be set up to be a decent grinder. Out of these three players, Halak has the most potential and upside.
Where does this leave the Blues goaltending situation? The Blues are now set to pass on Chris Mason, and will most likely Ty Conklin will stay on as backup goalie.
"They never talked to us about the possibility of a new deal or staying in Montreal," Halak said. "But it never happened. That's why the news I got today was a little bit surprising for me. It was still early and also that's why I was surprised — it came early. But I'm really excited about the new start."
No doubt man fans will be disappointed to see Chris Mason and Lars Eller go, but the rest of the league recognizes this as a major win for the Blues organization.