Ride In "Black Beauty," The Green Hornet's Car at Ronnie's Tomorrow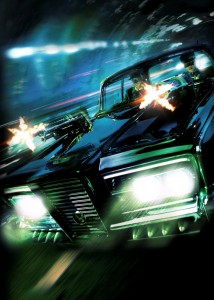 Tomorrow night, the Green Hornet's car – Black Beauty – will be revving it's engine at Wehrenberg Ronnie's 20 Cine in South County from 6 – 8pm. "The Green Hornet" stars Seth Rogen, Jay Chou, Cameron Diaz, Christoph Waltz and Tom Wilkinson. The film will be released in 3D in theaters nationwide on January 14, 2011.
Synopsis:
Britt Reid (Seth Rogen) is the son of LA's most prominent and respected media magnate and perfectly happy to maintain a directionless existence on the party scene – until his father (Tom Wilkinson) mysteriously dies, leaving Britt his vast media empire. Striking an unlikely friendship with one of his father's more industrious and inventive employees, Kato (Jay Chou), they see their chance to do something meaningful for the first time in their lives: fight crime. To get close to the criminals, they come up with the perfect cover: they'll pose as criminals themselves. Protecting the law by breaking it, Britt becomes the vigilante The Green Hornet as he and Kato hit the streets. Using all his ingenuity and skill, Kato builds the ultimate in advanced retro weaponry, Black Beauty, an indestructible car, equal parts firepower and horsepower. Rolling in a mobile fortress on wheels and striking the bad guys with Kato's clever gadgets, The Green Hornet and Kato quickly start making a name for themselves, and with the help of Britt's new secretary, Lenore Case (Cameron Diaz), they begin hunting down the man who controls LA's gritty underworld: Benjamin Chudnofsky (Christoph Waltz). But Chudnofsky has plans of his own: to swat down The Green Hornet once and for all. The Green Hornet is directed by Michel Gondry, written by Seth Rogen & Evan Goldberg, based upon "The Green Hornet" radio series created by George W. Trendle, and produced by Neal H. Moritz. (COLUMBIA PICTURES). This film is not yet rated.
Black Beauty is touring the US to promote the upcoming movie, and is making a stop in St. Louis at Ronnie's 20 Cine on Wednesday, October 19. Make sure to come see the amazing car, take pictures, and maybe even get to take a ride! The event goes from 6pm-8pm.
About Black Beauty
"Black Beauty" is a 1964-1966 CHRYSLER IMPERIAL that features: GM PERFORMANCE ZZ454 500HP CRATE MOTOR, RACE TRANS TURBO 400 MANUAL VALVE BODY TRANSMISSION, MOSER FORD 9 INCH REAR DIFFERENTIAL W/4.56 GEARS & DETROIT LOCKER, 4 WHEEL 12 INCH DISC BRAKES, TWIN CALIPERS IN REAR FOR STUNTS, SPEEDWAY ENGINEERING FRONT & REAR SWAY BARS, ART CARR SHIFTER, HOOKER HEADERS, FLOWMASTER MUFFLERS, COYES 20X10 REAR WHEELS 20X9 FRONT, GOODYEAR TIRES, OFF ROAD UNLIMITED REAR DROP SPRINGS, TUBULAR PANHARD BAR AND TRACTION BARS, REBUILT FACTORY FRONT SUSPENSION DROPPED 3 INCHES, 12-GALLON JAZ FUEL CELL, DEMON 750CFM CARBUERATOR, K&N AIR CLEANER, MSD DISTRIBUTER AND 6AL BOX, BE-COOL ALUMINUM RADIATOR, TWIN OPTIMA BATTERIES, AUTOMETER GAUGES, GRANT STEERING WHEEL, TOMMY LEE STEERING BOX, MARCH ENGINE ACCESSARY DRIVE SYSTEM, EARLS TRANSMISSION COOLER, PAINT AND BODY WORK BY JACK'S AUTO BODY, CLEAR GLASS FROM ALLEN AUTO GLASS, and INTERIOR BY REUBENS AUTO UPHOLSTRY.
Weaponry Featured on "Black Beauty"
2 hood mounted, retractable .30 Caliber M1919 Browning Machine Guns – cartridge-fed
8 FIM-92A Stinger Missiles – front bumper loaded
1 M2 Grill mounted Flamethrower – modified
2 Benelli M2 20 Gauge Shotguns loaded with non-lethal, kinetic impact munitions rifles (rubber bullets / beanbags) – mounted in the light bezels
4 FIM-92A Stinger Missiles – rear bumper loaded
1 .30 Caliber M1919A6 Browning Machine Gun on tripod mount – trunk
2 Retractible front wheel anti-riot spikes
6 AR-15, 12 Gauge modified door guns – inset 3 per front suicide door
"The Green Hornet" Opens Nationwide in 3D on Friday, January 14th, 2011