Bill Murray is Dead in Ghostbusters 3!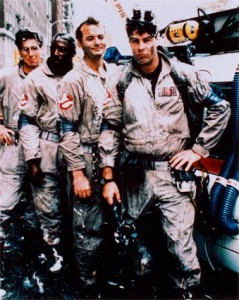 Sigourney Weaver is off the hook after making some comments about the third film in the Ghostbuster series, and how one of its main characters will only appear in the form of a ghost. Weaver took a hit for revealing the plot point, and now it doesn't seem like such a bad thing. Bill Murray is being surprisingly candid about it in interviews talking about how his character will come back in the film.
"I know that my little son, Oscar – who was kidnapped from me – I think he has grown up to be a ghostbuster," said Weaver in her December interview promoting Avatar, "I might be in it and I see nothing wrong with being in it, although I don't think I will have a big part in it. I think Bill Murray has a little more to do with it – he might be a ghost."
"I'll come back in Ghostbusters III only if I get to be a ghost. I said to them, 'I'll do it if you kill me off in the first reel.' So now they are going to have me as a ghost in the film," said Murray in a new interview.
So folks, what do you think about this? Do you think it is a mistake to do away with the most popular ghost buster and make him into a ghost?