Betty White Superbowl Snickers Ad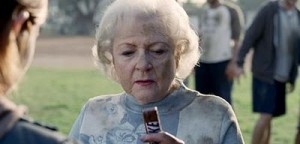 Well, Betty White showed she is a funny force to be reckoned with last night, and Abe Vigoda reminded us that despite reports over the past few years, he is NOT dead. The commercial came in slightly ahead of my favorite commercial of the night, Dorito's fan made ad "Shock Collar". These were two of the best ads in what was a slightly disappointing year for TV ads.
Normally AB ads reign supreme, but it seems that since their merger with InBev, they have lost a lot of the spark that made them such a great advertiser in Super Bowls of the past.  They still managed to grab the third spot with their best ad, a house made of Bud Light.
Here is the Top 10 Ads as rated by USA Today's Ad Meter:
Mars' Snickers -Guy plays like Betty White until he has a Snickers.

Doritos – Dog puts shock collar on owner.

Bud Light – Man builds house out of beer cans.

Budweiser – Fences don't come in between friends.

Coca-Cola – African sleepwalker finally gets Coke.

Audi A3 TDI – Green police out of control.

E-Trade – Baby chats with girlfriend.

Budweiser – Townspeople take action when the bridge is out.

Bridgestone – Bachelor party

Monster Worldwide – Fiddle playing beaver makes it big.
Watch the Betty White Snickers Commercial Below: