St. Louis's Must See Concerts – July 2009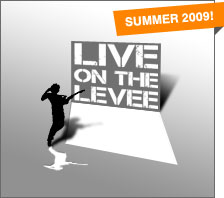 July 17th- Aug 1st LIVE on the Levee
LIVE on the Levee is back again this year with it's best lineup to date. Starting the lineup very strong is the punk/rock pioneer's Sonic Youth. This is the band I am most excited about. I have paid to see Sonic Youth before, and to see their great live show for free is a gift.  Guster on July 31st is another highlight for me. I have now seen this band twice. One of the times they impressed me with their live performance, however the first time I saw them I was left feeling a little sour by their performance. It will be nice to see another performance to see if the bad one was a fluke. Lupe Fiasco on August first to round out the lineup is a very solid choice, maybe not the most well known in the lineup but maybe one of the most talented. Don't forget everyone Live on the Levee is FREE!
Here is the full lineup and dates:
July 17th Sonic Youth
July 18th Little Feat
July 24th Angie Stone
July 25th Gretchen Wilson
July 31st Guster
August 1st Lupe Fiasco
July 24th Coldplay @ Verizon Wireless Ampitheater
Say what you will about Coldplay, but they are one of the best selling artists in the past decade. If I had to choose a pop concert to go to it would be this. Coldplay puts on a solid show and usually has a spectacular light show to go with it. Sure they started as a Radiohead light, but they have their own musical voice now and continue grow as artists, even if they aren't your cup of tea.  Last time I saw them live I enjoyed it a lot more than I thought I would and Coldplay earned a fan they didn't necessarily have before.
July 25th Greg Laswell @Blueberry Hill's Duck Room
Singer/Songwriter Greg Laswell is the highlight of Blueberry Hill's Duck Room shows in the month of July. If you like that soft indie rock with a smooth voice then Greg Laswell is a great artist for you to check out. Go see if you like artists like Joshua Radin, Mat Kearny, Brett Dennen, etc. The only downside is that if you aren't into that style of music then Laswell will probably not bring anything new for you. Although if you are open to trying new artists give him a listen.
Give all these artists a listen on ReviewSTL's Blip.fm page!