Citygarden – A Modern Work of Art in St. Louis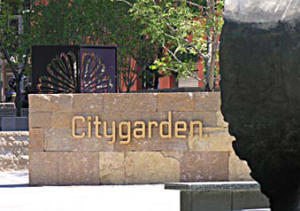 Citygarden is truly a work of art. Located in downtown St. Louis, it can be found only a few blocks away from Busch Stadium – between Eighth and Tenth and Market and Chestnut Streets. This latest project taken on by the City of St. Louis was funded by Gateway Foundation. Full of sculptures, gardens, and beautiful landscaping – Citygarden is a great place for the entire family.
The overall design of Citygarden was inspired by the history of St. Louis and the surrounding region. The plaza is located on three acres of land, and is separated into three different bands: The Northern River Bluffs Band, The Middle Floodplain Band, and The Southern River Terrace Band. Each distinct region of the plaza represents a different part of the region, and provides an exemplary portrayal of the surrounding beauty.
Artwork and Sculptures – There are twenty-four works of art featured around Citygarden, created by internationally renowned artists including: Fernand Leger, Mark di Suvero, Keith Haring, Martin Puryear, Jim Dine, Tony Smith, and Aristide Maillol. The collection is very eclectic, but definitely in a good way. Each piece is very different, and all of them together provide an interesting experience in art and history.
Watch Video of Citygarden Being Built

Videowall – Another really cool feature of Citygarden is the 16 foot long videowall, which is embedded in a wall of limestone blocks. Sporting events, movies, art videos, and other types of video will be displayed on the videowall. The screen is similar to that of the large screens at baseball games or other sporting events. It is made out of LEDs, and is incredibly bright – especially at night time.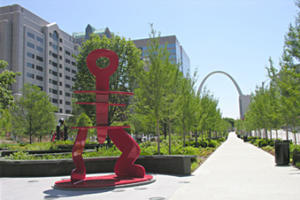 From Citygardenstl.org:
Linear feet of water lines: 10,000
Linear feet of electrical conduit, mostly used for lighting and water feature control wiring: 23,000
Linear feet of sewer lines: 3,300
Linear feet of irrigation lines: 27,000
Linear feet of special drainage lines: 8,000
Vertical jets in the Spray Plaza: 102
Blocks of Missouri limestone, quarried in Perryville, in the Arc Wall: 1,200
Truckloads of rubble hauled from the build site: 400
Depth below street level excavated, in feet: 8
Weight of heaviest tree (White Oak) imported into Citygarden: 80,000 Lbs.
Citygarden is a great addition to downtown St. Louis. It adds a new feeling of livelihood and fun to the city, and gives people another reason to go downtown with their family. It is definitely worth checking out, and is sure to bring you back again and again this summer. And one of the greatest parts about Citygarden is that it is completely FREE!
For more information on Citygarden in Downtown St. Louis, visit www.Citygardenstl.org.org.
Photos Taken by: Michael Behrens