Baseball Thoughts
There are two major issues I want to address, neither of them relating to the Cardinals.  I am, however, a man of the people, so I will address the nice little series win the Cardinals wrapped up last night.
Chris Carpenter once again pitched a terrific game, going eight strong innings and giving up just one earned run. He ran into trouble in the seventh, but a fortuitous bounce on what should have been an RBI single for the Reds turned into interference by Scott Rolen. Carp's stuff hasn't always been sharp this year, but he's been effective, and last night he showed why he's truly the ace of the staff. Carpenter's now 7-1 with a 2.76 ERA on the year.
Matt Holliday's quickly picked up the pace and starting to prove he's worth the $18 million-a-year commitment the Cardinals made to him. Over the last seven games, Holliday's gone 13 for 25 to raise his batting average more than 30 points up to .310 in addition to driving in six runs. His power's still lagging a bit (last night notwithstanding), but I get the feeling he'll still hit 20 or so by the end of the year.
With the win, the Cardinals move back into a tie for first with the Reds. Unfortunately, they don't play head to head again for two more months. Up next, the Cardinals play the Brewers beginning Friday.
Now, for the real part of this post.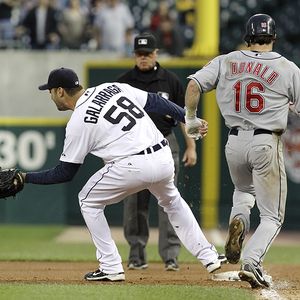 Jim Joyce. The name's associated with literary greatness. Ulysses is the greatest novel everyone claims to have read, but nobody actually has (even the synopsis on Wikipedia put me to sleep).
Now, the name will also forever be stuck with Don Denkinger in the Hall of Bad Calls.
Armando Galarraga, by all accounts an average pitcher at best (career record 21-18, 4.50 ERA), pitched the game of a lifetime last night against the Indians. For 8 2/3 innings, he was perfect.
The very last hitter, Jason Donald, hit a ground ball to first baseman Miguel Cabrera. He threw to Galarraga covering first, who beat Donald by a half step.
Jim Joyce didn't see it that way. Even from a perfect vantage point, he said Donald beat the throw.
And so Galarraga missed the chance to make his mark on the history books. To his credit, instead of complaining and throwing a fit, he got back to work and retired the next batter as well, and the Tigers still won 3-0. He pitched a terrific game.
But this is no consolation whatsoever to Galarraga.
Still, I can't help but feel a bit of sympathy for Joyce. Much to his credit, after seeing the replay, he admitted he was wrong. He personally sought out Galarraga and apologized to him, confessing his mistake. There isn't a person in the world who feels smaller right now than Joyce. There will be a lot of criticism of him today, and perhaps rightly so. But he is only human.
This is why MLB needs to expand its replay capabilities to more than just home runs. Every manager should be given one or two (tops) appeals for replay. The exception to this rule should be balls and strikes, for the sake of game pace. But everything else…fair/foul, home runs, safe/out, catch/trap…should be available to review to prevent another mistake from happening.
All of the fuss over the perfect game seems to be overshadowing a major announcement by one of the game's kings. After 21 plus seasons, Ken Griffey, Jr. announced his retirement from the game. He was having a terrible season, hitting .184 with no home runs and just seven RBI.
For anyone who grew up in the 1990s, however, this was an end to the career of one of the best players who's ever played the game. Griffey retires with a .284 average, 630 HR, 1,836 RBI, 2,781 hits, and 10 Gold Gloves. Griffey was probably the player of the decade in the 1990s (Pujols officially took reign of that award last season), and in an era of steroids and performance enhancing drugs, his integrity was never questioned.
Griffey will go down in history as one of the top outfielders in the game, and rightly so. It's unfortunate that his career went out with a whimper rather than a bang, but this last year will not tarnish his image.
Well done, Mr. Griffey.