Restaurant Review – Broadway Oyster Bar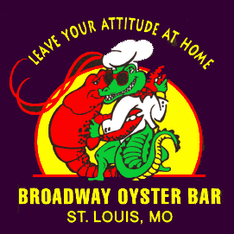 I originally decided to visit the Broadway Oyster Bar after purchasing an awesome Groupon from Groupon.com for the restaurant.  I am NOT an oyster fan.  I've tried them numerous times throughout my life and have never once liked them.  If anything, I've been peer-pressured into eating them and those doing the pressuring haven't liked them either.  Well, this visit was no different.
I was "forced" to order oysters on the half-shell.  The menu said we'd be getting, "Six fresh shucked oysters with a horseradish, tomato, and vodka mixture. Served in individual shot cups. Awesome!"  Not awesome…slimy and ick!  But, to each their own, right?  You cannot go to an oyster bar and not try the oysters!  Just watch your teeth – you can end up with some oyster shell particles!
Gross oysters aside (which I'm sure their's are just as good as any fine dining restaurant), let me tell you about the Broadway Oyster Bar.  This is a hole-in-the-wall kinda place…probably full of regulars, live music from time-to-time and an outdoor patio that makes you feel like you're right in Louisiana, minus the train and traffic of St. Louis on the other side of the fence.  It had a unique feel.  Probably a cheap hot spot before a Cardinals game.  The atmosphere matched perfect with the style of the restaurant, so no complaints there.
Now, if you've read my past reviews I really try to steer clear of being negative.  I like to put a "cheery" spin on the negative.  I can't really do that here.  I was looking forward to authentic, New Orleans cajun food.  Spicy, seasoned, flavorful.  I ordered the Crawfish Etoufée. Now, Emeril's recipe for this dish on the FoodNetwork.com calls for: garlic, cayenne pepper, onions.  My dish tasted like mush with rice and a few craw fish tails.  Not the best…nowhere near what I had hoped.  My counterpart had ordered a chicken grinder, another classic southern item.  The menu stated it was full of creole vegetables…the menu was full of ****.  It was full of chicken and some more, flavorless sauce.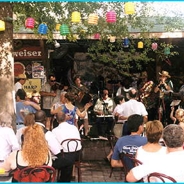 The best part of the Broadway Oyster Bar were there french fries…they were damn tasty and FULL OF SEASONING.  If you enjoy bland food, or Cajun food that has no spice at all (= not Cajun food), you would like the Broadway Oyster Bar.  If you are an oyster fan and want reasonably priced oysters with a nice cold beer and some live music, I would highly recommend the Broadway Oyster Bar.  Not my cup of tea…but maybe it's yours!