Back in Black, For the Third Time. Will Smith Stars in 'Men in Black III' (Review)
"Here come the Men in Black." Again.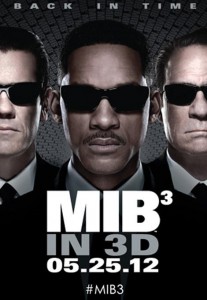 Nearly fifteen years after the original Men in Black, and a decade since the sequel, Will Smith and Tommy Lee Jones are finally back. Men in Black III takes us on a nostalgic trip with our two favorite extraterrestrial crime-fighters, as we go back in time for a look at how the black suits took care of business in the 60s.
Agents J (Will Smith) and K (Tommy Lee Jones) are still partners, working for the Men in Black – a secret organization protecting New York and the world from alien threats. After fifteen years K is still the same stern, emotionless partner that J has come to know. He wonders how he ever got that way, and what he was like in his prime. Little does he know that he is about to find out, after one of the most dangerous aliens K ever captured has escaped from the Super Max prison on the moon. In an attempt to stop Boris the Animal (Jemaine Clement) from going back in time and killing a younger K, J must also travel back to 1969.
After the disappointment that was Men in Black II, it was hard not to be skeptical of the latest film in the MIB franchise. But as they say, time heals all wounds, and after a decade of their absence from the silver screen I found myself remembering just how enjoyable the first film was. And the way that it was done, without any continuity from the storyline of the second film, you can basically forget that the second film ever existed.
What makes the movie is the strong cast, of both returning actors and new ones. Will Smith is back and charismatic as ever as Agent J. Although 15 years older, and in a slightly larger suit size, it is great to see him back in one of his most favorited roles. Tommy Lee Jones is great as K, and still pulls off the same menacing, cranky old partner demeanor. Their banter is still as humorous as ever, and the two of them make it seem like they never skipped a beat after all these years. Joining the cast is Josh Brolin, who plays a younger version of K back in 1969. All I could think was "wow" as I watched his performance, as he looks and sounds exactly like a young Tommy Lee Jones would look in the role. The casting for that was spot on, and Brolin was great in the role. Also new to the MIB scene is Emma Thompson, playing Agent O, who replaces Rip Torn's character Zed from the first two films. Her performance isn't anything out of this world, but she does well in the role as J and K's boss.
Whether or not it has been a while since you have seen the first film, Men in Black III is definitely a fun ride. It reminded me of just how silly and entertaining Men in Black was, and why it was so popular. Thankfully the film returns to it's roots, and acts as a neuralizer to erase the second film from our memories. Although it is not without flaws, like their warped logic of time travel that makes no sense at times, the film is a great popcorn flick that is sure to please fans of the series.
Men in Black III is a B-