August: Osage County – Theater Review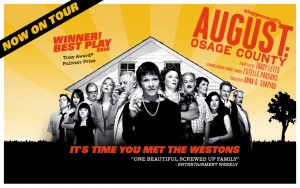 It has been about two hours since I left the Fabulous Fox after seeing Steppenwolf's August: Osage County, and I am still trying to process the most raw and intense theater experience I have ever had.  Everything from the sets, to every piece of dialogue was exquisitely done, and couldn't have left me with a better experience.
The densely plotted play (coming in at almost three and a half hours, with two intermissions) by Tracy Letts tells the story during one August of an Osage County, Oklahoma family. After the patriarch of the family, Beverly Weston, goes missing, the entire extended family comes pouring into the house of Beverly and Violet Weston. Both of the Weston parents are plagued with their problems, Violet is a pill popper, who seems to be outside her own mind half of the time, and Beverly drinks himself into oblivion. Everyone of their three children brings their problems with them, and bring a whole new meaning to "home is where the heart is". Throughout the play all the characters bare their hearts to each others, bringing genuine and funny dialogue.
This dark comedy is easily one of the best modern American plays ever written. It is littered with wry humor, and shocking moments, it plays out much like a dark sitcom. Of course, this is situational comedy like you've never seen it. Dark moments flutter across the stage, and tense moments arise just as quickly as they dissipate.  Characters banter much like you would with your family, no punches are pulled, and everything is left out on the table. Letts expertly plots and paces the story to a point where the three hour plus show comes off much like a simple hour and a half film.
I have never seen dialogue flow so naturally on stage. Characters talk over each other, interrupt, and shout to be heard. Impatience can be seen on the faces of the actors while they wait for their turn to get their word in. Many times it seems plays either skirt the issue of cursing completely or completely abandon all morals and fill half of the play with obscenities. August: Osage County walks the line perfectly, with the dialogue coming across naturally and unforced. Conversation between adults usually includes a few obscenities, and the number of them increase accordingly with the amount of stress and trepidation among the cast.
Playwrights often have a bad habit of creating only a few unique voices for their characters, and the rest seem to be out of place and generic. Every piece of the cast in August: Osage County has a unique role, and a certain style of dialogue. 14 year old granddaughter Jean talks much like you would expect of a teen girl entering high school. The self assured mentality of a teen, of a person who has little experience but feels they know everything. Many of the characters are written with personalities that will most likely remind you of someone in your own family, which only adds to the feeling of dysfunction.
Playing the pill stoned matriarch of the family, Violet, is veteran actress and Oscar winner Estelle Parsons.  Parsons is a joy to watch as the pill popping grandmother with a sharp tongue, and abundance of over sharing.  At age 82 Parsons is unusually spry, and moves quickly up and down the stairs of the large three story house that serves at the set.  She wobbles back and forth, and throws in quick jabs that show her brutal honesty. She might easily be the most unsettling character in the play. Her lack of thought into what she says to those around her serve real great moments that move the plot along, and add new twists. Parsons plays Violet as amazing funny in her ignorance, and even though her words might sting, they still are maddeningly funny.
Jon DeVries plays the small, but amazingly memorable role of Beverly Weston. Beverly is a once upon a time academic, who received some major awards a book of poetry he wrote in the sixties.  He drinks heavily, but still finds solace in books, and the words of T.S. Eliot. He opens the play with a long monologue explaining the relationship between him and his wife. "My wife takes pills, and I drink," he says. "That's the bargain we've struck." DeVries does an amazing job of setting the bar very high for the play from the beginning. He plays the role of a man who might have been vibrant and intriguing before, and is busy maintaining the last bit of that spark.  His character's walk into the sunset sets up the majority of the conflict for the story.
The oldest daughter of the Westons is Barbra Fordam, played brilliantly by Shannon Cochran. Cochran probably has the most time on stage of any character in the play, and maintains authority through much of it. She is a woman very much on the edge of a break down due to her missing father, her crumbling marriage, and her slightly out of wack teenager. Her personality is much like that of her mother's, a sharp wit and quick judgment.  She likes to think she is closer to her father, a child of academia. Cochran slowly builds her character's anguish and frustration throughout most of the play, and moments when she explodes feel very real and very visceral.
Barbra's husband, Bill (Jeff Still, read our interview with him here), a professor who has left his wife your a younger model, one of his students.  Bill might be one of the lightest characters on stage, but that only serves to hide his abandonment of his family for a young woman. His motives seemed to be tied to retain some grasp on the concept of a family.
Daughter, Jean, played  by Emily Kinney, is a teenage girl who is just leaving adolescence and struggling to find her identity. She seems much more than her parents seem to know, and keeps it bottled up, only to talk to people like housekeeper Johnna, and her aunt's boyfriend, Steve. Johnna doesn't seem to think much of her parents disapproval, and openly defies them at times with such actions as smoking pot. She is a very accurate portrayal of an American teenager, with an interest in film, and a innate dislike of her parents.
Angelica Torn (daughter of actors Rip Torn and Geraldine Page), plays the slightly dowdy Ivy, who has a resentment towards her parents and siblings, after being the only one left around to help take care of the problematic parents. Her storyline has one of the most shocking moments in the play, and to keep the suspense I won't say what it is. Torn plays Ivy with the right amount of regret and cynicism. The forlorn Ivy has a melancholy attitude which rightly comes from her circumstances left to her by her sisters.
Playing the slightly narcissistic and shallow sister, Karen, is Amy Warren. Karen has unusually bad taste in men, knows it, and is unapologetic about it. She cares less about what happens in the family, and more about spouting off platitudes about her new love life with successful boyfriend, Steve (Laurence Lau), who seems to be yet another creep in Karen's long line of losers. Warren gives Karen a bubbly personality which is completely different from much of her dark humored family. She bounces along giddily, and is appropriately hilarious because of it.
Rounding out the main cast is the Aiken family, consisting of Charlie and Mattie Fae (Paul Vincent O'Conner and Libby George), along with their grown child Charles Jr. (Steve Key) or as the family disparagingly calls him, Little Charles. Mattie Fae is an opinionated woman, whose opinions change just as fast as the conversation. I don't know if everyone has an aunt like her, but I sure do.  Charlie is the husband who goes along with much of his wife's opinions, and keeps to himself, but finds his backbone when she continues to belittle their son, Charles.
Johanna Montevata (DeLanna Studi) a Cheyenne Native American gets hired on in the prologue of the play by Beverly, and is seen throughout much of the play, but is mainly a background character who pops up at interesting moments. She isn't involved in much of the family drama, but she is seen almost always either in the kitchen or her attic room.
The set for the play is stupendous, a large three story house, where action shifts from room to room. Many plays characters are left to exit the stage after their scene is finished, but in August: Osage County you can see many of the characters in the other rooms going about daily business, only to have the action shift to them a little bit later. It a nice effect that is used quite well.
Make no mistake, August: Osage County is a very funny play, but it deals with dark subject matter such as suicide, incest, drug addiction, etc. Their is a bleak truth to the whole play, but is continually saved by its intensely real characters and sharp dialogue.  I can unequivocally say that it is probably the best play I have ever seen in my life, and even with how truly messed up some of the plot threads were, I couldn't help but find myself relating to the family in it. This is a play that will stay in the American zeitgeist for years to come.
Grade: A+
"August: Osage County," the 2008 Pulitzer Prize and Tony Award-winning play, is opening at Fabulous Fox Theatre in St. Louis tonight! The show tells the story of the Weston family, living Pawhuska, Oklahoma. It is about a father who disappears. A mother caught in the grip of addiction. A marriage unraveling, and a family approaching total meltdown. The New York Post calls it, "ENORMOUSLY ENTERTAINING!" Written by Tracy Letts and directed by Anna D. Shapiro, August: Osage County has audiences around the country talking about an unforgettable night at the theatre!
Read our interview with actor Jeff Still, who plays the father of the family.
August: Osage County will be playing at the Fabulous Fox Theatre in St. Louis from March 2 to the 14. You can purchase tickets at Metrotix, or visit the Fabulous Fox website for more details.