Killer Orca Whale Attacks Trainer Dawn Brancheau – Video Coverage and Police Report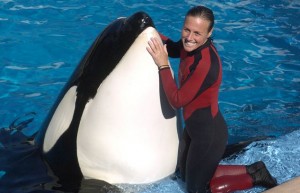 It seems like the tragedy that took place at SeaWorld last week just won't go away (read the entire story here).  As most people have heard, 40-year-old SeaWorld whale trainer Dawn Brancheau was attacked and killed by a killer whale named Tilikum.  The sheriff's department has been investigating the incident, and more information has been released from eye witnesses of the attack.
Eyewitnesses have told the sheriff's department details from the horrific incident.  A fellow trainer said, "it took approximately 25 to 30 minutes to get Dawn's body away… I could see that he had her in his mouth either by her hair or arm and she did not look conscious any time I could see her." Another SeaWorld employee said, "She was laying down on our concrete walk area face-to-face performing a relationship session with the whale.  He bit down on a piece of her hair. Within a span of two seconds, she was pulled into the pool unable to get her hair released from his mouth."
Funeral services were held on Monday, where Dawn Brancheau's friends and friends were in attendance to lay the trainer to rest.
Here is video coverage of the whale attack on CBS: