Assassin's Creed: Brotherhood (Videogame Review)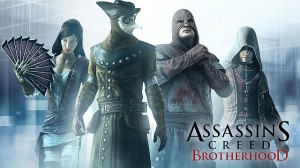 After lots of hype and much Waiting, Ubisoft finally releases what promises to be the best Assassin's Creed yet. "Assassin's Creed: Brotherhood" delivers what many had hoped wouldn't be a disappointment. The second game in the franchise fixed what many saw as holes in the first game; but it left many thirsting for more. Brotherhood delivers on that thirst and more.
The story picks up immediately following the shocking conclusion of Assassin's Creed II. Desmond is once again trying to eliminate the remaining traces of the Templar's in 2012. But, to do so he must continues to use the DNA of Ezio Auditor (his late ancestor) to find and eliminate the Templar's at their height during renaissance Rome. That's the other change to this game that is both good and bad for players. You get to see beautiful Rome and discover new territory; however you leave behind Florence and the familiarity that made many excel at the game.
You are attempting to rid Rome of the Borgia family who controls everything. To do this you can choose to recruit the oppressed as Borgia's army is hassling them or you can pass. You will also meet several of the Assassin's Guild members in the game. Uniquely to this game, you can bring them along on your journey or you can call them in to takeout lookouts and other templar's in your way. But be careful, if you send the guild member into a battle that is more than they can handle, you will lose them. And, if you are anything like me you'll get attached to certain characters and develop a great style of play that infuses them into how you accomplish the assassinations.
I don't want to give you a blow by blow of the campaign mode as there are something's you just need to experience. I will however tell you that the fighting methods vary widely and are plentiful for you to choose from as you solve the many puzzles that appear before you in your attempt to commit the perfect assassination.
With that said I don't want to forget the multiplayer portion that is new and unique. Not only are you given a player/character to assassinate but someone is assigned to find and assassinate you. You'll need to be aware of your surroundings and be the last person to survive. And if you have some money you could ask another player to take your assassination on as well. This multiplayer on XBOX 360 requires you have a XBOX Live account and that costs extra. But the cost is worth it at the attempt to hone your skills and play the campaign better.
Overall, I give Brotherhood; five out of five stars.
Do you want to know more about the latest in video game news and technology? Check out my radio show. The Gamers Show is on Monday nights from 7pm – 11pm on 89.5FM The Wave. Can't tune it in? listen online at stlcc.edu/kcfv.