'Arrested Development' script in the works!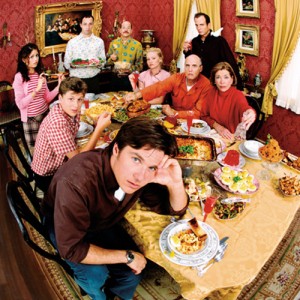 Good news for all you Arrested Development fans out there! Creator Mitchell Hurwitz and co-executive producer James Valley have started work on a script. Hurwitz is set to direct, and all cast members are reportedly signed on for the short lived TV series debut on the big screen.  Although scheduling is bound to be a nightmare as many of the actors have seen their careers boosted by the critical success of the show. Michael Cera and Jason Bateman both have had leading roles in feature films since the demise of Arrested Development.
This is making big news around the entertainment world. The AD movie had been rumored for a while, and all but confirmed.  This shows that things are moving forward, and we might finally get to see Tobias Funke (the world's only therapist and analyst, the only Analrapist) make a fool of himself, GOB performing more inane magic…illusions, and the rest of their gang with their over the top antics. Whether they can transfer the formula that worked so well on the small screen to the big screen remains to be seen. I, however, wait with bated breath.
Some bloopers from Arrested Development (NSFW Language):