"Arrested Development" Creator Mitch Hurwitz Says Film Could Release This Year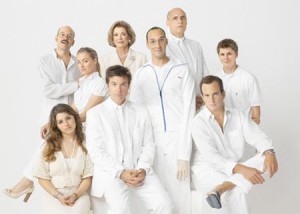 I'm going to set this up first by saying, I'll believe it when I see it.  The Arrested Development film has been talked about ever since the series was canceled over four years ago. Last year it seemed to finally pick up steam, only to fall flat on its face again. Now creator Mitch Hurwitz has insisted it is still in the works.
"We've started that process and it is our sincere hope to shoot it this year and get it out this year," Hurwitz said to DigitalSpy.com.
"I want to keep whatever it is we end up with as a surprise, which kind of betrays the fact that we might not have the whole thing worked out," said Hurwitz. "But I don't like to toy with the affections of our fans. They've been so supportive and we're so grateful, so I kind of hate to answer the question until I can say, 'Yep, we've shot it, it opens next week'. Otherwise it feels like we're toying with people and we do not mean to do that. It has just taken a while to get it going."
I don't mean to be a pessimist, but is Hurwitz trying to move forward because none of his other projects seem to be obtaining any type of success? His latest show, Running Wilde, has been getting killed in the ratings and by critics.
The other question up in the air is, can they get the cast back together? Jason Bateman and Michael Cera both have solid careers since their departures from the show, and the rest of the cast still gets solid work.
Part of me is feeling like this is the Duke Nukem Forever of the film world. You know, a cult classic, and a promised sequel that continually gets delayed. Although, now that it is finally getting released maybe there is hope after all?
Let us know what you think in the comments!