Are you dying to see ZOMBIELAND? Win Passes to the advance screening!
ReviewSTL invites you to enter for the chance to win FREE passes to the St. Louis advance screening of "ZOMBIELAND"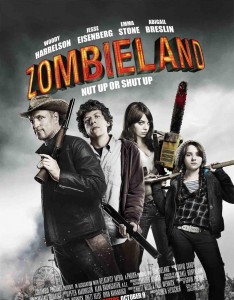 Enter for your chance to win a pass good for two!
NO PURCHASE NECESSARY
OPENS NATIONWIDE FRIDAY, OCTOBER 2TH!
Please note that winning passes to 'ZOMBIELAND' does not guarantee admission to the film. You must arrive early as seating is first-come, first-served. It is usually safe to arrive at least 1 hour or more before show time!
In order to enter the contest, simply leave a comment below with your favorite zombie movie and why you want to see this one. Winners will be chosen at random and notified via e-mail. No purchase necessary.
Screenings are TUESDAY, SEPTEMBER 29 at ESQUIRE & THURSDAY, OCTOBER 1 at RONNIES. Good luck! We hope to see you at the movie.
Synopsis:
Columbia Pictures' horror comedy Zombieland focuses on two men who have found a way to survive a world overrun by zombies. Columbus (Jesse Eisenberg) is a big wuss – but when you're afraid of being eaten by zombies, fear can keep you alive. Tallahassee (Woody Harrelson) is an AK-totin', zombie-slayin' badass whose single determination is to get the last Twinkie on earth. As they join forces with Wichita (Emma Stone) and Little Rock (Abigail Breslin), who have also found unique ways to survive the zombie mayhem, they will have to determine which is worse: relying on each other or succumbing to the zombies.
WATCH THE TRAILER