Apple More Valuable Than Google?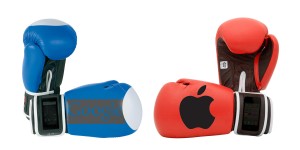 Big news in the tech world yesterday as it was announced that Apple has overtaken Google in global brand value. Over the past year, Apple has seen an 84% increase to $153 billion, while their rival in all things mobile drops to the #2 position with a 2% loss and a brand value of $111 billion.
Looking at just the word 'value', it can be summed up as 'what you get' versus 'what you pay'. 'Brand value' would add 'how much extra you would pay' to the equation. A higher brand value means customers would be willing to pay more of a "premium price" over an equal product from another company. This is a major win for Apple's marketing team.
The iPad was Apple's turning point. They were not just a personal computer company anymore. They were not just a simple mp3 player manufacturer. They did not kick start a stagnant mobile industry with the release the iPhone just for the fun of it. The iPad innovated where innovation had failed. Tablets had been attempted before with disastrous results. Apple stepped up and showed the world this is how it should have been done. They proved once again that even though they weren't the first ones there, they were the first ones to do it right. Over time they have consistently built up their name with each of these victories.
In 2011, the Apple brand is strong, and their customers are loyal. This global brand value data comes close to confirming that the confidence Apple shows at its special events has transferred over to its customers. The iPad is the current champion of the tablet market. The iPod has beaten all competitors as the default mp3 player of choice. However, brand value is still an intangible, subjective measurement.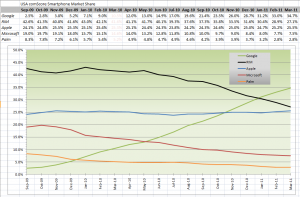 Not every Apple product has seen great success along with total domination. Just because someone says they would pay more for a product does not mean they did not buy the cheaper product for the same features. While the smartphone market has been a great success for Apple, they have not deviated much from their 25% U.S. market share in the past 20 months. Android has seen a meteoric rise in that same period going from bottom of the mobile OS heap to taking the number one spot away from longtime record holder Research in Motion at the start of 2011. In the desktop computing industry, Microsoft is still king of personal computers with more users running the much-hated Windows Vista over Mac OS X.
There is no question that Apple is a success story, but how much staying power do they have? How long will their customers keep them afloat?