The Killing Recap/Review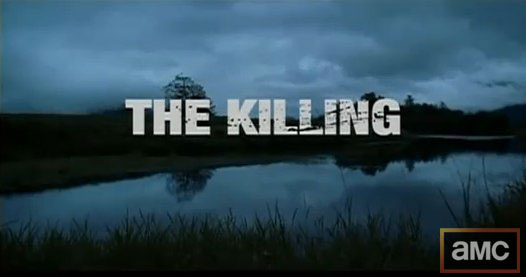 The Killing Recap 5/8/11
Episode Seven "Vengeance" started the same way as last weeks ended with Stan Larsen driving around with Bennett on the suspicion that he had killed his daughter. They come to a stop at the site where Rosie's body was found and they exchange words with Stan eventually leaving Bennett and returning home. While that was going on Detective Linden was frantically searching for Bennett being that Stan had a past with the Polish Mob. Linden eventually works her way to Bennett's place of residence and begins to talk to Amber and learns that she a symptom that prevents her from carrying heavy items, i.e. Rosie's body. Amber also mentions that there is a guy, Mohamed, who studies Muslim with Bennet, and he has a key to their house and he could have let Rosie in on the night of the murder. As they are talking Bennett arrives and pushes Linden out and tells her not to return unless she plans on speaking to his lawyer. This was supposed to be Linden's last day in Seattle, and she forgets that until Detective Holder gives her a friendly reminder and she is stuck rushing to the airport and eventually misses her flight out of Seattle. The next day Linden is trying to contact her fiancé and he seems to be ignoring her calls, so faced with not knowing what to do Linden stays and works on the case for the seventh day.
On day seven, Linden and Holder reconnect because of Holder's inability to obtain a search warrant for the Bennett Amed residence. They then proceed to Bennett's house of worship in search of this Mohamed character that Amber had mentioned. At the mosque they learn of another missing child that the police have just looked past. The head of the mosque then hands them a picture of the girl and tells them that if they are looking for Mohamed they should stay for worship and find him there, by the way there are forty or so Mohamed's at this mosque. Upon further investigation of the photo there is a note with an address attached to it. Linden and Holder proceed to the residence and find it to be very suspicious with hundreds of hooks hanging up around the place and quite a few jigsaws as well. They come across a padlocked freezer like room and Holder breaks the lock and just as they start to search the room the F.B.I. comes barreling through the doors and puts Linden and Holder to the ground and handcuffs them, and then the episode concludes.
This episode also featured Mayor Adams shutting down a program that Councilman Richmond is highly in favor of because of Bennet Amed's involvement in the program. Mitch Larsen also confronts Belko about who called him with the information on Bennett's involvement. Stan also comes to terms with his past and how Rosie was deciding factor in him leaving the Mob.
This show has been completely up and down for me to this point. This was another one of the more exciting episodes for me because of what all was going on. I've seen that when they try and stick to one or two storylines then the show is kind of boring but, when they have like three or four things going on in the episode then it is a lot more exciting for me, and this had exactly that! Honestly I still love this show…kind of a love/hate relationship. This episode was one of the better one's from this season and I am hoping that AMC keeps this show around till at least the season finale. I don't see how the show can stay relevant for any more than this season, but we shall see what the writers decide to do to keep it going for as long as humanly possible. Other than the "Pilot" episode this was probably by far my favorite so far in this season.