Another Take By Zac: Film Review: True Grit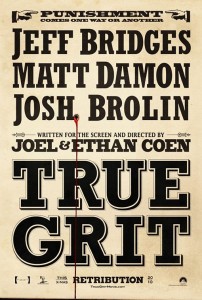 The latest from the Coen Bros., True Grit, is their least odd and most straightforward film to date but there is still plenty of weirdness, laughs, and amazing performances that we expect from these guys in this great film.
The film is not a remake of the 1969 John Wayne film of the same name but is instead a re-adaptation of the Charles Portis source novel from 1968.  The Coen's wanted to do this to put the point of view back through Mattie's eyes and re-instill some of the humor in the novel.  The result is fantastic as the film is surprisingly (though not really, it is a Coen Bros. movie after all) hilarious; especially considering the tone of the TV spots I have seen.  The film also delivers on the tone it is selling though and features heart pumping moments and plenty of drama.
The story follows the fore mentioned Mattie as she recruits a local U.S. Marshal, Rooster Cogburn, to hunt down and capture the man who killed her father in cold blood.  Cogburn is reluctant to take the job, especially if Mattie is to tag along like she requests, but Cogburn decides to try and ditch Mattie and team up with a Texas Ranger, LaBoeuf, who is also after the murderer.  Though Mattie is not one to have the wool pulled over her eyes and she quickly catches wind of Cogburn's game and catches up with the lawful duo as they set off after her father's killer.
The film is a technical marvel featuring fantastic direction, cinematography, score, sound, everything and this should be expected from the Coen's and their usual crew.  The film moves right along up the trail never wasting a beat and entertaining the whole way.  The Coen's do just a fantastic job of balancing out the perfect balance of humor, action, suspense, and drama and it is remarkable that they can keep this up film after film.  There are some beautiful shots and moments dabbled throughout the film and the only negative note I have on the thing is that I wish the final showdown was a bit more grand and exciting.  That said, the scene that follows said showdown is kind of fantastic and while some might complain the ending is a tad too abrupt, but I enjoyed it just fine.
The cast is phenomenal here with most of the work being carried by the three main leads.  Jeff Bridges is surly, brilliant, and hilarious as Rooster Cogburn.  The character is just a blast to watch, and I imagine was even more fun to play, and it is his best turn since The Big Lebowski; wonder if those films are connected?  Bridges chews the scenery and bounces off his co-stars with such natural ease that we can't help but believe in these characters and their bonds.  Hailee Steinfeld makes her feature debut as Mattie and is incredible.  She goes toe to toe with Bridges and Matt Damon here and outshines them from time to time as well.  She has so much fire and grit of her own that is unbelievable what she is able to do at the ripe old age of 13.  I think we are going to see a lot of Steinfeld for years to come if this debut is any measure of her abilities.  Lastly, Damon plays LaBoeuf with such smug cockiness and silly demeanor that you can't help but like him and wish for him to return to the screen as soon as possible.  All three leads get their moments to shine and deliver three of the best performances of the year.  Josh Brolin and Barry Pepper both do fine work as well in there limited parts, Pepper especially is someone I wish we would have got more time with.
In the end, True Grit is one of the best films of the year and one that will only get better with repeat viewings.  The Coen's have crafted another great western in this recent resurgence over the last few years and one hopes we get more from the genre.  The cast is fantastic from top to bottom and there is something for just about everyone to love in the picture.  Don't miss this one as it is one I think many film fans will be calling back on for years to come.  Another great entry into the filmography of the Coen Bros.
True Grit is an A