Another Take By Zac: Film Review: The Company Men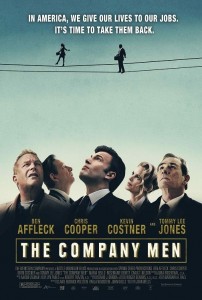 The Company Men is a fine little drama that rings very true and features a bevy of fine performances that help elevate this modern tale of job loss despair.
Our story follows Bobby Walker who is a rising future executive type at GTX, a transportation company that gets laid off when the recession kicks into high gear; along with the majority of his co-workers.  Walker doesn't know how to deal with himself and as he tries to find a new job and can barely get an interview, let alone a job at the standard he once had.  The world of GTX is crumbling elsewhere as well as the upper executives are at odds with one another.  Gene McClary has been a lifelong partner and friend of GTX's president James Salinger, but when Salinger cuts 2/3 of McClary's division tensions grow between the two.  Lastly, Phil Woodward is a lifelong GTX'er who worked his way from the factory floor to upper management but when the heads start to roll he begins to stress out and become obsessed with when he will hit the chopping block.
Now, the biggest fault of the film I think is its inability to connect with the middle class of our country in the sense that we are watching a bunch of the wealthiest people in our country sulk and fret over their inability to be very wealthy.  The film is also almost fantasy when it comes to Gene McClary because you rarely, if ever, hear any stories about top level executives covering anyone's ass but their own.  Having said that, I was still able to connect with the film and sympathize with the characters and the emotions they are feeling, Walker most of all.  Not to drag myself into it but having been laid off myself it wasn't hard to connect with the feeling of not wanting to take a job less than what you had and your pride is on the table daily as you try and find your next step.
The film is finely made and moves right along.  The tone of the film strikes a near perfect balance between the drama and spurts of humor, mostly from Walker, and while dealing with a potentially deathly serious subject matter the films weight is never overwhelming.  The characters are also exceedingly real and believable with all the actors providing a lived in turn that doesn't fit any one type.  The most unbelievable bit of the film is actually the nature of the ending and its bit too rosy of a conclusion for some of the characters.  There is one large dose of reality thrown into the third act but I can't quite buy into the ending and the sap that gets laid on a bit too much in the end.
The cast is full of talent, starting with Ben Affleck as Walker, who delivers one of his finer performances in a while.  Between his work here and all around talent in The Town, Affleck, is having his best year in film since possibly Good Will Hunting.  Affleck captures the inner battle of Walker and his desire to remain prideful while he struggles with unemployment.  Tommy Lee Jones plays McClary well as the executive with a heart and while his character is sort of a fantasy Jones makes it believable.  Chris Cooper plays a familiar role for him but he plays the grizzled and hardnosed veteran as good as anyone.  Maria Bello's character is the most underdeveloped of the main characters but she captures the goal of the role which is to facilitate the emotional needs of those around her.  Rosemarie DeWitt is also sharp as usual as Walker's wife and she gives the film its firmest footing in the non corporate world.  Kevin Costner provides some further grounding as DeWitt's brother as well as some of the film's further comic relief.  Craig T. Nelson rounds out the cast as Salinger and he is more than convincing as the C.E.O. that is as big of a jerk as you expect him to be.
In the end, The Company Men is a timely film that is full of a great actors doing fine work.  The film keeps its potentially depressing subject matter light, yet real, and never wastes a beat along the way.  John Wells' debut is a quality first outing and if he is able to continue to round up fine casts like this he could have a prosperous feature future.  Anyone that has gone through some tough times as of late will be able to connect to this film but beyond that should be an enjoyable drama for those looking for a bit of optimism left in this mess of a situation our country has been in.
The Company Men is a B