Another Take By Zac: Film Review: Paul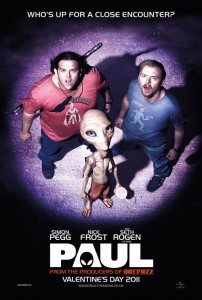 Paul is a love letter to Spielberg and Lucas of the 70's and 80's with more references than you can shake a stick at in what is basically a giant geek road comedy that will work for film nerds and regular folk alike.
Greg Mottola takes Simon Pegg and Nick Frost's script (they also star) and almost perfectly captures the tone and film they are going for.  So much so that I don't know how much better it could have been done if Frost and Pegg's bud Edgar Wright had done it; that is high praise for Mottola.  The film follows a pair of Brit's, Graeme and Clive, who come to comic-con before setting off on a great American UFO road trip in their RV.  When they witness a crash on the road, the pair goes to check it out only to discover an alien, Paul, who is on the run from authorities.  Graeme, Clive passed out, reluctantly agrees to hit the road with Paul and the trio head off to try and get Paul back to his people.
As referential as the film can get the story is still full of plenty of surprises.  The group runs into a bevy of colorful characters along the road, maybe even picking up one or two, and the misadventures surrounding Paul come fast and furious.  The trio is being tracked down by a group of Federal Agents and the film does an excellent job of getting plenty of humor out of a potential dry and stereotypical part.  The three personalities, Jason Bateman, Bill Hader, and Joe Lo Truglio, all bring an interesting spin to the classic archetype and have a lot of fun making it silly. 
It is when Kristen Wiig shows up that Pegg and Frost's script really elevates their game though by delivering one of the funniest characters I have seen in awhile.  Wiig is so damn funny here (and when is she not?) and she plays the part perfectly.  I don't want to spoil her role but religious types are likely to be offended.  In fact, the film skewers religion in general and gets plenty of laughs out of it along the way.
The realization of Paul is what the film hinges on though and the film couldn't have been more successfully; visually, verbally, or creatively.  From the fantastic animation and character model, Seth Rogen's pitch perfect performance, or the fantastic references and winks at previous alien films, Pegg, Frost, and Mottola knock it out of the park.  Paul is one of the better sci-fi creations in some time and will have you laughing from start to finish.
It's the characters that make this film shine as bright as it does and Pegg and Frost did a great job at writing some great material for themselves and their supporting cast.  A true ensemble effort, Pegg and Frost still get plenty of great stuff to work with and don't drop an opportunity when it comes around to them.  If you are a fan of the duo's previous work, and if you've seen it then you are, then this is another great entry for the comedy team and is more than a hold over for their next collaboration with Wright.
In the end, Paul is a fun and hilarious road movie for film geeks and regular film goers alike.  Sure the references will make the film more enjoyable for the ones in the know, but the humor transcends just being reference based and has plenty of genuine character moments along the way.  Paul is going to be one of the funniest films of the year when it is all said and done, don't miss out on it now.
Paul is an A-