Another Take By Zac: Film Review: I Am Number Four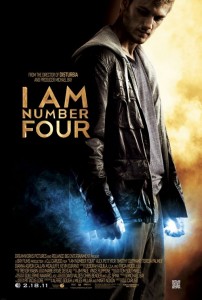 I Am Number Four is a tough film to review as it starts off as a bit of a mess, in that it really doesn't know what it wants to be, and then gets really fraking awesome for the last fifteen or twenty minutes or so.
The film follows Four, a Lorien alien who was sent away from his planet to Earth as it was wiped out by a competing group on the planet, the Mogadorians.  The Mogadorians are hunting down Four now on Earth, who is next in line of the nine Lorien children who are hiding on the planet.  Killing the nine Lorien in order, the first three have fallen to the Mogadorians, and Four and his protector, Henri, are on the run after Four feels the loss of Three.  Henri settles on Paradise, Ohio, and Four heads to high school while they hope that the Mogadorians can't track them down.  As you might assume, a cute girl catches Four's eye and things become further complicated as he becomes connected to her and the town.
That plot description I am sure doesn't sound like something a lot of you want to dive into.  There are shades of Twilight, Superman, and many other sci-fi/fantasy conventions in this young adult series adaptation and it runs into many problems along the way.  The film spends most of it runtime building this world around Four in Paradise and leaves us in the dark surrounding where he comes from.  I understand this is a series of books but it is a bit frustrating as an uninitiated viewer who has no idea where these Lorien's come from.  The film shows Four to be just as naive as us first timers though and one finds it hard to believe that Henri would not be schooling him on his people past and abilities seeing how important he and the other nine Lorien are supposed to be.
Beyond the lack of back story to the Lorien and Mogadorian strife, the film has some serious identity crisis issues.  The film opens in this exotic local with a fast paced and quick cutting chase scene and next it seems like we have wandered into a Hollister ad filming on the beach.  From here the film throws us a "your not my father" relationship between Henri and Four, we have a mysterious blonde tracking Four and blowing up any evidence of his existence, a shape shifting animal turns itself into a beagle and starts living with Four and Henri, and the Four meets the cutest girl in town in his first five minutes at school; and this is all within the first 30 minutes or so.  From here the film dips its toe into a clichéd jock/geek struggle, has a super man discover his super powers, a helpful friend who's father was abducted by aliens, the ability to delete anything on the internet from anywhere is possible, and a number of corny one liners.  And we aren't done, from the romance spurs Four's desire to have a real family, after seeing Sarah's, and Henri lets Four know that his kind can only Love one, forever!  Seriously.
The film doesn't dwell on any of these things long enough for us to get invested in them and seems to be throwing everything at us hoping something sticks.  The problem is that some of it does stick and it moves right along past the things we want to know more about.  We are given the glimpses of the sci-fi world and powers of Four and his fellow Lorien's but the scenes quickly end with little incident or Four uses his awesome power to start a car.
It's when things are about to become almost too much to bear that the film flips a switch and things get awesome.  Seriously, the finale of this movie makes all the trepidations and missteps along the way worth it as I was absolutely pinned to my seat as mayhem unfolds in the Paradise high school.  The effects look great and the action is directed masterfully by D.J. Caruso.  The school just gets annihilated as a couple super powered aliens square off against a gaggle of laser blasting beasts and the results are awesome.  Let's also not forget the trio of giant monsters that are battling things out as well.
The acting in the film is held back from some weak writing as Dianna Agron can, and has, been better but Timothy Olyphant mostly over comes it.  But Olyphant is awesome.  Alex Pettyfer does an alright job on the acting front but more than makes up for any shortcomings there in the action beats.  Teresa Palmer is just right as the action packed blonde on Four's trail and Kevin Durand hams it up delightfully as the main Mogadorian.
In the end, I Am Number Four is a quite the mess at times but it is completely worth it to get to the fantastic end.  There are some good ideas here and I think a sequel could be fantastic as I at least found myself rooting for our heroes in the end.  The action potential of this film was apparently incredible and you can't help but feel cheated that there wasn't more of that fantastic action throughout the runtime.  I am intrigued to wear this thing could go but it is a shame we had to labor through so much to see the potential of this hopeful series.
I Am Number Four's is a C- (The Final 20 Minutes are an A-)