Another Take By Zac: Film Review: Bridesmaids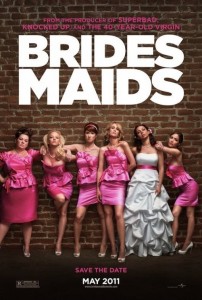 Bridesmaids is a sweet, honest, kind of sad but often hilarious look at friendship and marriage on the female side of things, led wonderfully by the always great Kristen Wigg.
The friendship between Annie and Lillian has been for as long as they can remember and when the later is in line to get married Annie is thrust into the maid of honor role.  As Lillian is on the up, Annie is on the down, having lost all of her money trying to open a bakery, living in an awful situation and stuck in a sex only relationship with a guy she wants more from; Annie has seen better days.  To make things even worse, Lillian's best friend from Chicago seems to be trying to anoint herself above Annie, always trying to one up Annie every step of the way.
The plot may sound familiar but Wigg and Annie Mumolo have written a script that is honest and real, wrapped around moments of silliness and absurdity.  The characters lean on types a bit, but all prove to have depth and issues, especially Annie.  Annie's journey through the film is a quite sad one and all too common, I imagine, in this day and age for women.  The character is defeated and hopes for more, but the film never makes her out to be the, "I have to get married or I am a failure," arc that fills so much media aimed at women.  Annie is a great representation of the modern women and not a caricature of what women "should" be.  I am so sick of seeing movies where a woman who isn't pursuing a man or racing to get married is considered off or crazy.  Bridesmaids' protagonists are full of real conflict and fears that I think both sexes can identify with.
And with that, I have to say that his film is not a, "Chick Flick."  The premise is built around women but the film is identifiable with anyone.  The film is a comedy, a great one at that, and anyone interested in laughing should head out to see this film as it is the funniest of the year so far.  You should be ashamed with yourself for writing off the film because it looks like a girl movie.  Give it a shot and I can almost guarantee you won't regret it.  The film is as crude as many "guy" movies and its wit is a sharp as most.  Paul Feig has finally busted out of the TV world with a winner here, but I hope he doesn't stop frequenting a lot of the great shows he worked on either.  Regardless, Feig is a comedy director to watch and I can't wait to see what he cooks up next.
The actors in the film are across the board great, starting with Kristen Wigg in her first lead role.  Wigg is known for her characters on SNL, but she plays the straight woman here for the most part.  Her quirky side comes out from time to time, to great affect, but Wigg turns in a sweet and sad performance that couldn't feel much more authentic.  She knows Annie inside and out and creates a compelling and funny lead for this great film.
Rose Byrne plays Annie's potential foil, Helen, and she is great as the villain that isn't an awful person.  Needy and competitive, Byrne fits the bill easily and sells us on Helen's softer side when necessary.  Maya Rudolph plays Lillian and she too is great, as usual, but I wish we had gotten to see more of her.  Melissa McCarthy is the other stand out in the cast as she plays to the more blue side of things.  Outrageous at times, the character has enough depth and heart to keep her grounded and not ballooning into a giant cliché and I think McCarthy deserves a lot of credit for that.  Ellie Kemper and Wendi McLendon-Covey round out the bridesmaids and they both do fine work as well, they just don't have nearly as much material to work with as those above.  Chris O'Dowd and Jon Hamm play Annie's potential mates in the film and both deliver plenty of laughs.  Hamm particularly shines as he plays against his Don Draper type many associate him with.
In the end, Bridesmaids is a great comedy that has an honest heart and grounded characters.  The comedy never misses, ranges from sharp wit to broad gross outs, and is paced quite effectively.  The film works so well that it is able to carry on gags much longer then you would think they could, without caving in on its self.  The direction and writing is right on and you would be hard pressed to find any funnier films to come out this year when it's all said and done.  Don't miss out on Bridesmaids, and it is a winner for both the boys and the girls.
Bridesmaids is an A