Angelina Jolie Tells People Magazine How She Got In Shape For "SALT"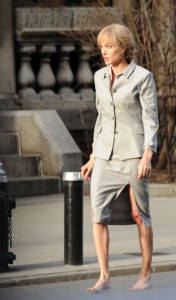 Opening nationwide yesterday, "SALT" stars Angelina Jolie as CIA officer Evelyn Salt. In the film, Jolie kicks a lot of ass, and looking in great shape. She told People Magazine how she toned up for the role.
Check out our review of "SALT" here.
Jolie'a trainer for the movie, Simon Crane, said that she ate five small meals per day, in a ratio of 70% carbohydrates and 30% protein. No fat there. Jolie also didn't do any cardio, so that she could maintain her muscle that she was gaining by working out.
Crane tells the magazine that Angelina Jolie trained 5 days per week, for grueling two-hour sessions at a time. During filming, workouts were limited to lunch breaks and weekend sessions.
To learn more about Angelina Jolie's training regiment for "SALT," check out the article over at People Magazine.