'Alice in Wonderland' Tops Box Office For Third Week – Beats 'Wimpy Kid,' 'Bounty Hunter' and 'Repo Men'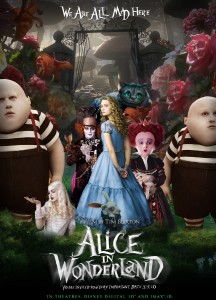 Tim Burton's "Alice in Wonderland" has done it again. For the third straight week since it's release, 'Alice' has managed to take the number one spot at the weekend box office.
Opening this week in theaters was "Diary of a Wimpy Kid," coming in second place with $21.8 million. In an extremely close third place, "The Bounty Hunter" starring Gerard Butler and Jennifer Aniston brought in around $21 million during opening weekend. "Repo Men," starring Jude Law and Forest Whitaker had a lack-luster release at just about $6.15 million.
Here are more of this weekend's box office results –
TW
LW
Title (click to view)
Studio
Weekend Gross
% Change
Theater Count / Change
Average
Total Gross
Budget*
Week #

1

1

Alice in Wonderland (2010)
BV
$34,500,000

-45.0%

3,739

+11

$9,227

$265,800,000

$200

3

2

N

Diary of a Wimpy Kid
Fox
$21,800,000

–

3,077

–

$7,085

$21,800,000

$15

1

3

N

The Bounty Hunter
Sony
$21,000,000

–

3,074

–

$6,831

$21,000,000

$40

1

4

N

Repo Men
Uni.
$6,151,000

–

2,521

–

$2,440

$6,151,000

$32

1

5

3

She's Out of My League
Par.
$6,015,000

-38.5%

2,958

+2

$2,033

$19,954,000

$20

2

6

2

Green Zone
Uni.
$5,963,000

-58.3%

3,004

+1

$1,985

$24,702,000

$100

2

7

4

Shutter Island
Par.
$4,755,000

-41.6%

2,704

-652

$1,759

$115,770,000

$80

5

8

7

Avatar
Fox
$4,000,000

-38.7%

1,236

-482

$3,236

$736,881,000

–

14

9

6

Our Family Wedding
FoxS
$3,800,000

-50.2%

1,609

+4

$2,362

$13,668,000

–

2

10

5

Remember Me
Sum.
$3,300,000

-59.2%

2,215

+3

$1,490

$13,900,000

$16

2

11

15

The Ghost Writer
Sum.
$2,100,000

+71.4%

819

+595

$2,564

$6,800,000

$45

5

12

8

Brooklyn's Finest
Over.
$1,679,000

-62.5%

1,311

-628

$1,281

$24,859,000

$17

3