ALEXANDER AND THE TERRIBLE, HORRIBLE, NO GOOD, VERY BAD DAY Opens October 10! Win Passes to the Advance Screening!
Enter for your chance to receive a pass for four to a special advance screening!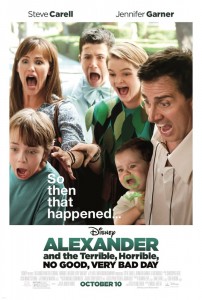 Disney's "Alexander and the Terrible, Horrible, No Good, Very Bad Day" follows the exploits of 11-year-old Alexander (Ed Oxenbould) as he experiences the most terrible and horrible day of his young life—a day that begins with gum stuck in his hair, followed by one calamity after another. But when Alexander tells his upbeat family about the misadventures of his disastrous day, he finds little sympathy and begins to wonder if bad things only happen to him. He soon learns that he's not alone when his mom (Jennifer Garner), dad (Steve Carell), brother (Dylan Minnette) and sister (Kerris Dorsey) all find themselves living through their own terrible, horrible, no good, very bad day. Anyone who says there is no such thing as a bad day just hasn't had one.
Cast: Steve Carell, Jennifer Garner, Dylan Minnette, Ed Oxenbould, Kerris Dorsey, Megan Mullally, Jennifer Coolidge, Bella Thorne
Director: Miguel Arteta
In order to enter the contest, e-mail us and tell us why you can't wait to see the movie!
No purchase necessary. Void where restricted or prohibited by law. At the screening seating is not guaranteed and is available on a first-come, first-served basis. Refer to screening pass for further restrictions. Screening pass winners will be drawn at random and notified via email. Limit one (admit-four) pass per person. Must be age 13 or over to enter.
Screening will take place Thursday, October 9.
ALEXANDER AND THE TERRIBLE, HORRIBLE, NO GOOD, VERY BAD DAY Opens October 10!