Alec Baldwin and Steve Martin Will Host Oscars in 2010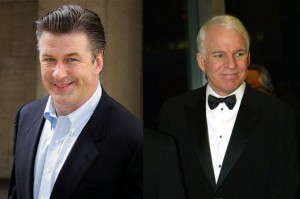 For the first time since 1987, the Academy Awards will have multiple hosts. Early next year, Alec Baldwin and Steve Martin are set to host the 82nd Annual Academy Awards. The comedic pairing is the result of the upcoming film directed by Nancy Meyers, "It's Complicated," which opens this Christmas.
The last time there were multiple hosts at the award show was during the 59th Annual Academy Awards, which were hosted by Paul Hogan, Chevy Chase, and Goldie Hawn. This preceded hosts Robin Williams, Jane Fonda, and Alan Alda the year before.
This will mark Martin's third return to hosting the award show, and will be Baldwin's first.