'How to Train Your Dragon' Trailer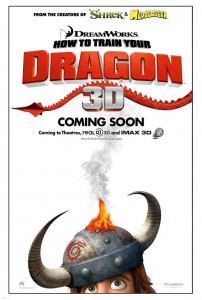 I'm a bit of a kid sometimes. I love a good animated film with an uplifting storyline. Probably because I watch so many types of films, that it is nice to see a film that is purely visceral with no intention other than to please. You don't really have to struggle for a deeper message, because it is laid out right in front of you. I have a feeling I'm going to love How to Train Your Dragon. The voice cast is one you usually see associated with a Judd Apatow movie, not with an animated film. Although, I'm willing to bet those guys are funny without resorting to crude humor. (Even though they tend to do pretty good with it normally).  The premise looks funny, and what little boy doesn't want a pet dragon? Should do well with kids, expect inevitable sequels.
Synopsis:
A Viking teenager named Hiccup lives on the island of Berk, where fighting dragons is a way of life. The teen's smarts and offbeat sense of humor don't sit too well with his tribe or its chief… who just happens to be Hiccup's father. However, when Hiccup is included in Dragon Training with the other Viking teens, he sees his chance to prove he has what it takes to be a fighter. But when he encounters (and ultimately befriends) an injured dragon, his world is flipped upside down, and what started out as Hiccup's one shot to prove himself turns into an opportunity to set a new course for the future of the entire tribe.

Cast: Gerard Butler, America Ferrera, Jonah Hill, Jay Baruchel, Christopher Mintz-Plasse
Director: Chris Sanders
Genres: Children's/Family
Release Date: March 26, 2010