Albert Pujols on David Letterman (Video)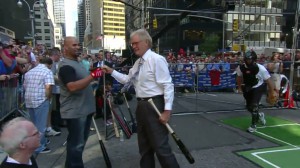 In case you missed it last night, Albert Pujols stopped by the Late Show with David Letterman last night. The Cardinals are in New York to start their series against the Mets tonight so Letterman had him on because, let's face it, he is the best player in baseball right now.
Albert talked about teams that he has a lot of respect for, facing tough pitchers day in and day out, and his son's future in baseball. One thing was quite evident: Albert is a likeable guy. Albert is a great representation for not only baseball but St. Louis as a city.
Albert slyly dodged questions about who the worst team was in the league, and then Letterman asked how Albert would do facing Bob Gibson. He had this to say, "He told us in Spring Training, 'If I had to face you, I'd throw one right at your head. And if you look at me, I'll throw you one back again,' I was like, I'm glad I don't have to face him."
Albert and Letterman then went outside where Denis Leary, who was a guest earlier on the program to talk about his show Rescue Me, pitched some balls to Letterman and then to Albert.
Check out the video below in case you missed it:
[hdplay id=85 width=595 height=375]
Maybe by morning or later in the day there will be a video of the full interview. That's the best I could find so far.