Actress Jaimie Pressly Arrested on DUI Charge; View Mugshot Here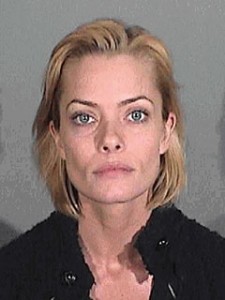 My Name is Earl actress, Jaimie Pressly, was arrested last night in Los Angeles of suspicion of driving under the influence.  The actress was pulled over by the LAPD after she allegedly committed a traffic violation. The actress then received a field sobriety test, and after was taken to the Santa Monica jail. Pressley was released this morning on a bail of $15,000.
Being the wife of entertainment lawyer Simran Singh, I'm pretty sure she has good legal counsel, and I'm pretty sure she'll only receive a slap on the wrist after reading this is her first time offense.  Although, the fact that the bond was set at $15,000 suggests that her blood alcohol level was higher than 0.15, when in normal cases below that the bond is set at $5,000.
So far I have not seen a statement released from the actress's publicist, but I would imagine there will be one by the weekend.
What do you think? Let us know in the comments!