A.I. Results (5/5/11)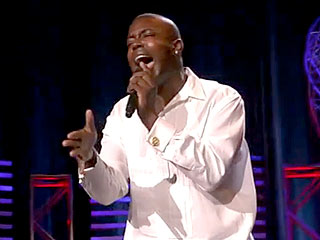 A.I. Results Breakdown (5/5/11)
The Results show featured songs by Lady Antebellum (Decent Performance) and Jennifer Lopez (Not so Decent Performance). The contestants also performed a melody to "Happy Together" (Like usual wasn't all that great). Along with that, Gordon Ramsey, of Hells Kitchen, showed up to give the contestants a lesson in cooking.
Now for the Results! Seacrest brings James up and then Lauren up and divides them into two sections on stage. Next he brings Jacob up putting him with Lauren, and then Haley is brought to the stage and put with James. Finally, Ryan informs the one remaining person on the couch, Scotty, that he is safe but then forces Scotty to join the group that he thinks is safe with him. Scotty refuses to do this and Seacrest nudges him towards the group with James and Haley informing them that they are safe as well.
Bottom Two
#1 Jacob Lusk
#2 Lauren Alaina
They come back from a commercial and Ryan jumps into the final results and informs Jacob that he has been eliminated from American Idol. The crowd isn't surprised at all by this and neither is Jacob. He plays the show off with a song that was much better than either of the performances from the previous night.
JACOB IS FINALLY GONE!!!!!!! I don't think words can express how happy I am about this! I have been wanting this guy off of the show since before he even made the Top Twelve, and I'm still a little bitter that he made it this far. I mean everywhere I look people are ripping this guy apart and yet America has pushed him into the Top Five. Now that he is gone I think the competition is about to get extremely heated and the I am truly looking forward to the coming weeks to see who takes control because after this week I think that James has fallen a little and opened the competition up to whoever is willing to step up and take it over. I really can't predict who I think is going home next week, I would like it to be Scotty but I don't think America is going to make that happen. Realistically, it will probably be Lauren because Haley has been on fire the last couple of weeks. Even though, I really do like Lauren but at this stage you can't really play favorites, you just have to take it week by week and see what happens. The big thing I'm taking from this week is that JACOB IS FINALLY GONE!!!
© Jeff Siler www.trainwreckstl.com