Review: "There Be Dragons" Starring Charlie Cox, Wes Bentley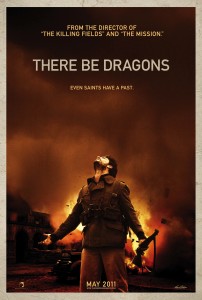 Taking place around the Spanish Civil War, "There Be Dragons" is the story of two best friends who grow apart to live two drastically different lives. Josemaria Escrivá (Charlie Cox), who's family is faced with being poor for most of his childhood, would go on to become a priest and found Opus Dei. Meanwhile Manolo Torres, who comes from a wealthy family, drops out of seminary and eventually becomes a spy who infiltrates a group of communist rebels. Each must conceal their identity, while facing thier own 'dragons.'
The film opens in 1982 where reporter Robert Torres (Dougray Scott), son of Manolo, is researching the life of Josemaria. Robert learns that not only did his father know Josemaria as a child, but they actually attended the same seminary. Unfortunately for him, he has not spoken to Manolo in over 8 years. When he attempts to make contact with his father, Manolo is less than eager to talk about his old friend. The story transitions back to 1911, when the two young boys were growing up. Josemaria's father is struggling with a failing business, while Manolo's father owns a successful chocolate factory. As an elderly Manolo narrated the story, he says that his father thought that poverty was contagious, and forced him to stop seeing Josemaria.
Many years pass, until the two reconnect at a seminary. Rather than exchanging affection, the two exchange blows. Manolo leaves, and joins his father's business – while Josemaria becomes a priest. Years later Manolo's father passes away due to the stresses of the factory, and Josemaria tries to comfort him. The two drift further apart as Manolo is recruited to become a spy and joins the rebel forces. There he falls in love with a young freedom fighter named Ildiko (Olga Kurlylenko) who does not return the same feelings. Meanwhile Josemaria has founded Opus Dei, but must hide with his followers to avoid persecution as war wages.
Charlie Cox, who is probably most recognizable from playing the lead role in 2007's "Stardust" alongside Claire Danes, does an amazing job as Josemaria. As the character grows and develops what will forever become known as Opus Dei, he displays this genuine love and passion for what he is doing. He plays the calm and collected priest with extraordinary realness. Wes Bentley, most recognizable as Ricky from "American Beauty," is Manolo – who's personality is the opposite of Josemaria's. He is aggressive, cold, and violent at times – where Josemaria is loving and peaceful. Bentley is perfect for the role, as he plays the character who at times appears to have no soul. Manolo's emotions start to break through his cold exterior when he meets Ildiko however, played Olga Kurlylenko who was the main Bond girl in "Quantum of Solace." Kurlylenko is a natural in the role, playing a female freedom fighter who isn't afraid to pick up a gun and fight for what she believes in.
The story is quite large, and there is a lot going over the 71 years that it spans. Needless to say, to tell that kind of a story you can't expect a short run time. At just over two hours, the film tends to slow down a bit at times. But luckily it is interesting enough that where it lacks in action, it makes up for it with an intriguing story and talented actors. If you are not familiar with the Spanish Civil War, you can get lost at times with what is going on. But overall, the film tells a great story that tactfully mixes fiction with true events to paint a picture of the life of Josemaria.
"There Be Dragons" is a B