A Doritos Bag That Plays the 'Guardians of the Galaxy Vol. 2' Soundtrack. Because, Why Not?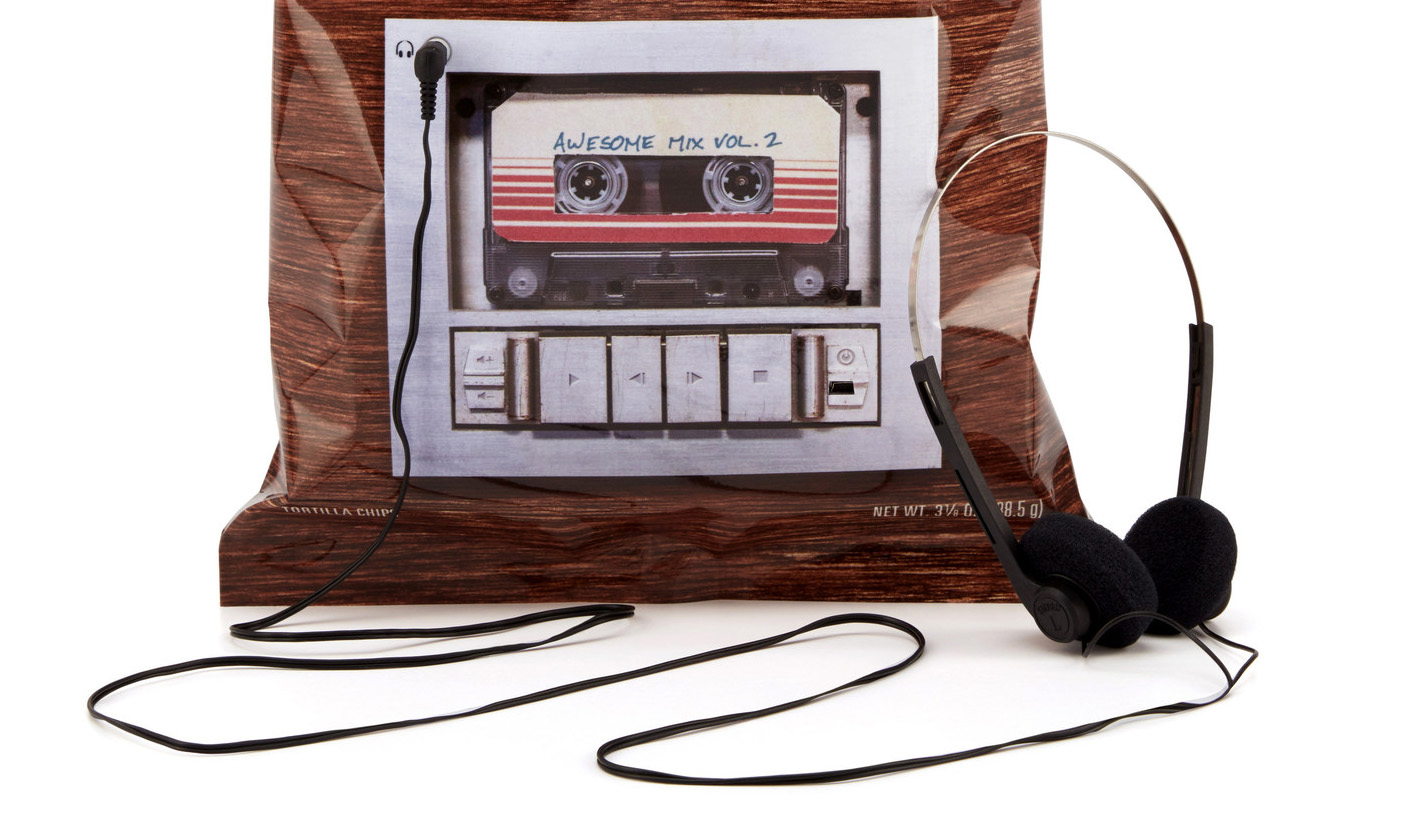 If you came here because you thought I said a bag of Doritos could play the soundtrack to an upcoming Marvel movie, you are 100% correct.
These days, it seems anything is possible. And that includes snacking on your favorite nacho cheese flavored triangle chips.
In case you aren't in the know, it all started 3 days ago. Frito-Lay North America sent out a press release on Wednesday that sent the internet into a collective, "is this for real?" The company said,
"Marvel Studios' Guardians of the Galaxy Vol. 2 soundtrack will be available in out-of-this-world fashion via custom Doritos bags featuring a retro cassette tape deck-inspired player built right into the packaging that plays the full soundtrack. Consumers can purchase the custom bags starting Friday, April 28 on Amazon.com/Doritos while supplies last, and Doritos will also help unveil the soundtrack at special events in New York and Los Angeles."
People all around the world were bookmarking the link, and come Thursday night they were on Amazon furiously hitting the refresh button. The only problem is, the press release said nothing other than "4/28," and the link was to a generic Amazon page selling a variety of Doritos. The musical chip bag was nowhere to be seen.
@Doritos I started watching the Amazon page at midnight. Refreshing every few minutes. Now it's after 12pm and still nothing.

— Billy Dojcak (@elektrolad) April 28, 2017
And this is where things got frustrating for movie fans and chip-lovers alike. Midnight turned into 1am, which turned into 2am, and – well, you know how times works. But eventually it was noon. And still no sign of the hard-rocking geometric cheese snack. People were reaching out to Doritos and Amazon via Twitter, but received nothing back in terms of replies. People even resorted to calling Amazon support, only to find that they were completely oblivious to the promotion.
@Doritos @amazon I called amazon to see if they knew… they were clueless to this promotion why does Amazon not know? Or their call centre..

— Ashley Smarties (@AshSmart) April 28, 2017
The original tweet of the press release wound up with 126 replies (to only 178 likes) when, out of nowhere, Doritos came out of hiding at at 7:02pm to post another vague message about the promotion.
How to out-Friday your Friday? When your bag of Doritos plays the Guardians of the Galaxy soundtrack. Grab yours today. pic.twitter.com/z1R21hU7oD

— Doritos (@Doritos) April 29, 2017
Not even a link to the product page. Again. And to the frustration of the internet, it wasn't even on the Doritos page that they promoted. But inevitably someone found it, and replied below the original message with it. After 19 hours of waiting and refreshing, the collective internet reached for their wallets and pre-ordered the $29.99 bag of chips.
Wait, it was a pre-order?
@Doritos waited all day for a pre-order?? 😡

— that's what i do (@lambertchop) April 29, 2017
And then, not even forty-five minutes later, it was gone. All that remains is a place to give Amazon your e-mail and get a notification when (and if) it is available again.
So what is the lesson here? Hopefully the next time Doritos does a promotion like this they will give followers more details. It was a cool idea, which had news sites all over the internet – from Deadline to EW – covering the story. But in the end, it left the people trying to buy the chips with a bad taste in their mouths.
So what can you do to get your Guardians of the Galaxy Vol 2. fix? Luckily the movie comes out next week, on May 5th in theaters everywhere. The GotG Vol 2. Soundtrack, which was built in to the chip bag (in a non-removable, non-downloadable format) is available now via iTunes and Amazon.
As far as Doritos go, if you are still craving them, I'm pretty sure they are in-stock wherever groceries are sold.