"9 To 5 The Musical" Is A Surprisingly Pleasant Workday Experience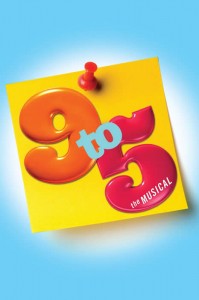 I walked into the beautiful Fox Theatre knowing only one thing about 9 To 5 The Musical, Dolly Parton was involved in some way.  This did not leave me hopeful.  I am not a country fan myself, and Ms. Parton's big personality is just a little too much for me to handle.  I was hoping for maybe a catchy tune that I could hum on the car ride home and then forget about the next morning.  What I got was a high energy experience that I would gladly watch again.
9 To 5 The Musical tells the story of three co-workers who suddenly find themselves friends when they discover that they share a strong hatred toward their boss.  They all wonder what it would be like when the women run the office, and they soon discover exactly that when the boss gets "tied up" with other things.
The success of the show is just how much fun it is.  I certainly did not expect to be smiling for a majority of the night, but it was hard not to.  The cast is outstanding.  From the main roles to the small ones, almost everyone gets a laugh and smile from the audience.  Dee Hoty takes the reins as Violet who is captures the frustrations of a business woman in the 70s perfectly.  Mamie Parris plays Judy, instantly causing the audience to cheer for her to do well in a job she has no experience in right after her husband leaves her for a younger woman.  And Diana DeGarmo rounds out the trio of women putting on her best Dolly Parton impression and doing a great job.
If I had to find a complaint it would have to be the music which is actually kind of a backwards complaint.  I couldn't hum or sing any of the songs now, mere hours after watching the show live, but every musical number is full of energy and excitement that I still loved every song.  The singers all do fantastically well with the music.  My favorite number of the show is the uptight secretary of the boss showing her true desires.  The crowd was laughing throughout.
If you love musical theatre then this is a must see.  If you love Dolly Parton this is a must see.  If you have your doubts like I had and think that this is not your cup of tea, I am sure that you will be pleasantly surprised with what you see.  Everyone owes it to themselves a night of enjoyment and laughter, and this is a show that can give you that kind of night.
9 To 5 The Musical runs now til February 20.  Head over to fabulousfox.com for more information.