Here at ReviewSTL we know you like to see movies, and you want the inside scoop. So, we are here to give you the inside track on the jam packed summer movie season. We are going to take a look at all the major releases, and a few of the limited releases. We will be predicting the outcome of the summer. Let us know in the comments when you agree or disagree!
May 7th
Iron Man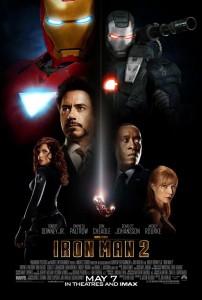 The world is aware that billionaire inventor Tony Stark is the armored Super Hero Iron Man. Under pressure from the government, the press and the public to share his technology with the military, Tony is unwilling to divulge the secrets behind the Iron Man armor because he fears the information will slip into the wrong hands. With Pepper Potts, and James "Rhodey" Rhodes at his side, Tony forges new alliances and confronts powerful new forces.
Blake's Take: The 2010 movie season opens up with a bang, and most likely with the biggest film of the year. There is a very good chance that this film will be breaking opening weekend records set by 2008's superhero movie of choice, The Dark Knight. Back once again is Robert Downey Jr. bringing his own special brand of charisma to Tony Stark. Robert Downey Jr. has taken a second tier comic book character and moved him to a place where no other person could have. The sequel also sees the return of Gwyneth Paltrow as assistant Pepper Potts.  Although, there has been a bit of a casting change for James "Rhodey" Rhodes.  Due to contract dispute Terrance Howard has been replaced by Don Cheadle, who should fit in the role quite nicely. Add in a fantastic supporting cast consisting of Mickey Rourke, Scarlett Johansson, and Sam Rockwell, and you have the makings of a huge blockbuster.
Blake's Estimated Final Domestic Gross: $440 million
Babies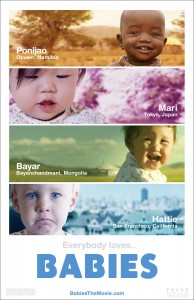 Everybody loves… BABIES. This visually stunning new movie simultaneously follows four babies around the world – from first breath to first steps. From Mongolia to Namibia to San Francisco to Tokyo, BABIES joyfully captures on film the earliest stages of the journey of humanity that are at once unique and universal to us all. The children are, respectively, in order of on-screen introduction: Ponijao, who lives with her family near Opuwo, Namibia; Bayarjargal, who resides with his family in Mongolia, near Bayanchandmani; Mari, who lives with her family in Tokyo, Japan; and Hattie, who resides with her family in the United States, in San Francisco.
Blake's Take: How is babby formed? Ok, so this film doesn't really go into that, but it does show four very cute babies. Babies are critic proof, and people who want to watch them put the learning blocks into place will love it. Although, the fact that there is no narration, and no title cards might turn a lot of people off.  There aren't a ton of people who can sit and watch babies for an hour and a half (no matter how cute they are). Although, I doubt this is supposed to be anything but a niche release. Anyone else is afraid of releasing anything this weekend due to the blockbuster power of Iron Man.
Blake's Estimated Final Domestic Gross: $7 million

Mother and Child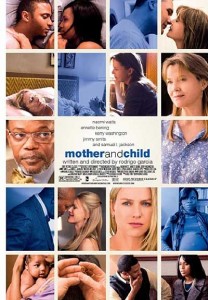 Three women's lives share a common core: they have all been profoundly affected by adoption. Karen had a baby at 14, gave her up at birth, and has been haunted ever since by the daughter she never knew. Elizabeth grew up as an adopted child; she's a bright and ambitious lawyer, but a flinty loner in her personal life. Lucy is just embarking with her husband on the adoption odyssey, looking for a baby to become their own.
Blake's Take: A few years ago any release starring Naomi Watts would've had a lot more buzz, but this one seems to be coming in under the radar. Has Watts fallen off the A-list that quick or is this feature that will break out later? This could actually be the comeback year for Annette Benning who hasn't released a lot of projects over the past ten years. The buzz is strong on this one and her later release The Kids Are All Right. (Watch the trailer here.) Either one of the releases could serve up an Oscar nomination for Benning. Although, my choice for the real breakout here is Kerry Washington. Washington has quietly been taking stronger roles over the past few years, and looks to be on the verge of a breakout.
The film looks a little heavy for standard audiences, but expect it to do well in critical circles and the art house crowd.
Blake's Estimated Final Domestic Gross: $22 million
May 14th
Robin Hood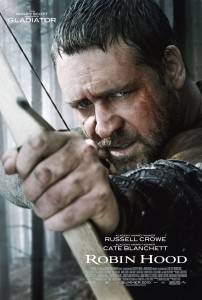 In 13th century England, Robin and his band of marauders confront corruption in a local village and lead an uprising against the crown that will forever alter the balance of world power. And whether thief or hero, one man from humble beginnings will become an eternal symbol of freedom for his people.
"Robin Hood" chronicles the life of an expert archer, previously interested only in self-preservation, from his service in King Richard's army against the French. Upon Richard's death, Robin travels to Nottingham, a town suffering from the corruption of a despotic sheriff and crippling taxation, where he falls for the spirited widow Lady Marion, a woman skeptical of the identity and motivations of this crusader from the forest. Hoping to earn the hand of Maid Marion and salvage the village, Robin assembles a gang whose lethal mercenary skills are matched only by its appetite for life. Together, they begin preying on the indulgent upper class to correct injustices under the sheriff.
With their country weakened from decades of war, embattled from the ineffective rule of the new king and vulnerable to insurgencies from within and threats from afar, Robin and his men heed a call to ever greater adventure. This unlikeliest of heroes and his allies set off to protect their country from slipping into bloody civil war and return glory to England once more.
Blake's Take: People were in love with Kevin Costner's take on Robin Hood in 1991's Robin Hood: Prince of Thieves. However, now that almost twenty years has passed, the film has not stood the test of time very well. Who would've thought the appeal of Bryan Adams doing a theme for a film would ever fail? Needless to say the time was ripe for an updating of the classic tale.
The new take is being brought to you by the familiar team of Ridley Scott and Russell Crowe. People are already falling over each other to call it the duo's next Gladiator. Although, the film almost didn't happen. The project took forever to find a suitable script that Crowe would agree to, and there were other rumors of turmoil in the making. Luckily the trailers that have come out have been very entertaining, and it looks like Robin Hood might have the potential to be a hit if it isn't overshadowed by Iron Man.
Blake's Estimated Final Domestic Gross: $190 million
Letters to Juliet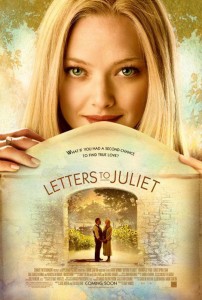 When a young American travels to the city of Verona, home of the star-crossed lover Juliet Capulet of Romeo and Juliet fame, she joins a group of volunteers who respond to letters to Juliet seeking advice about love. After answering one letter dated 1951, she inspires its author to travel to Italy in search of her long-lost love and sets off a chain of events that will bring a love into both their lives unlike anything they ever imagined.
Blake's Take: Amanda Seyfried is an enigma. At one moment she seems to be a breakout actor, who almost no one remembers co-starring in Mean Girls with the likes of Lindsay Lohan and Rachel McAdams, and the next she seems to be starring in just about every sappy romantic film coming out. This marks her second occasion this year where she has starred in a film about star crossed lovers.  Needless to say she will have an easy draw on tween and teen women. The girls will come for Amanda Seyfried and stay for Chris Egan whose career has seemed on the path of star status for a while. Egan has unfortunately been doomed to projects such as Eragon and NBC's Kings, both high profile duds.
The real question here is if this film is sufficient counter programming to battle the likes of Iron Man and Robin Hood.
Blake's Estimated Final Domestic Gross: $65 million
Just Wright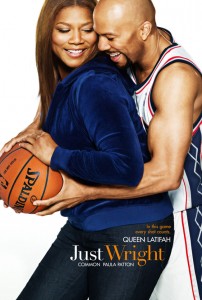 Just Wright revolves around a sports trainer (Latifah) who finds herself falling in love with a professional basketball player (Common) while rehabilitating him from a career threatening injury. Things are further complicated because her closest friend (Patton) is also pursuing him.
Blake's Take: Yet another piece of counter programming for the male heavy blockbuster themed beginning of summer. This is a comedy that is being offloaded before the behemoth that is Sex and the City 2 is comes out. Although, no one should give up on this unfortunately titled romantic comedy. It is directed by Sanaa Hamri who came onto the scene with the great low budget romantic comedy Something New. Add in the charismatic leads of Queen Latifah and Common, and the extremely underutilized  urban market, and you have a bonafide hit on your hands.
Most people might think that a comedy like this as no chance, but I have a feeling there will be a few surprises with this one.
Blake's Estimated Final Domestic Gross: $55 million
May 21st
Shrek Forever After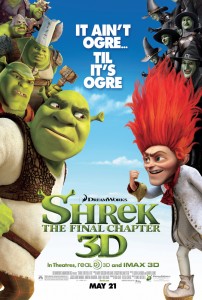 After challenging an evil dragon, rescuing a beautiful princess and saving your in-laws' kingdom, what's an ogre to do? Well, if you're Shrek, you suddenly wind up a domesticated family man. Instead of scaring villagers away like he used to, a reluctant Shrek now agrees to autograph pitch forks. What's happened to this ogre's roar? Longing for the days when he felt like a "real ogre," Shrek is duped into signing a pact with the smooth-talking dealmaker, Rumpelstiltskin. Shrek suddenly finds himself in a twisted, alternate version of Far Far Away, where ogres are hunted, Rumpelstiltskin is king and Shrek and Fiona have never met. Now, it's up to Shrek to undo all he's done in the hopes of saving his friends, restoring his world and reclaiming his one True Love.
Blake's Take: As fun as I find the Shrek series, it has been getting worse with each release. The first film was a great satire of fairy tales, and it took pretty much every good piece of pop culture, and threw it in there. They packed the first one so full of references, and it doesn't seem they've saved enough for subsequent releases. The series is a very good example of too much of a good thing. The joke has gotten stale, and it is time for DreamWorks to stop milking the cash cow. (Although, I can't blame them too much.)
The Shrek series lacks the power it has had in recent years, but it should still be one of the bigger releases of the summer.  It is easily the most solid children's release until Toy Story 3 comes out in the middle of June. Shrek Forever After should be able to use that to its advantage.
Blake's Estimated Final Domestic Gross: $320 million
MacGruber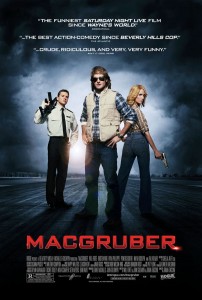 Only one American hero has earned the rank of Green Beret, Navy SEAL and Army Ranger. Just one operative has been awarded 16 purple hearts, 3 Congressional Medals of Honor and 7 presidential medals of bravery. And only one guy is man enough to still sport a mullet. In the 10 years since his fiancee was killed, special op MacGruber has sworn off a life of fighting crime with his bare hands. But when he learns that his country needs him to find a nuclear warhead that's been stolen by his sworn enemy, Dieter Von Cunth, MacGruber figures he's the only one tough enough for the job. Assembling an elite team of experts — Lt. Dixon Piper and Vicki St. Elmo — MacGruber will navigate an army of assassins to hunt down Cunth and bring him to justice. His methods may be unorthodox. His crime scenes may get messy. But if you want the world saved right, you call in MacGruber.
Blake's Take: This is really a film that could go either way. It could be the defining moment for a talented SNL cast that breaks them out into the mainstream. (Think Mike Meyers and Dana Carvey in Wayne's World.) It could also be one of those films where every funny bit is shown in the trailer. I'm thinking that this will be a movie that showcases SNL talents like Jorma Taccone in his directing debut, Will Forte, and Kristen Wiig.
MacGruber has hit places like SXSW, and has received decent critical response. Although, critical response one way or the other doesn't always equal success. This is one of the hardest films to call throughout the whole summer.
Blake's Estimated Final Domestic Gross: $72 million
Warning: Red Band Trailer.
May 27th
Sex and the City 2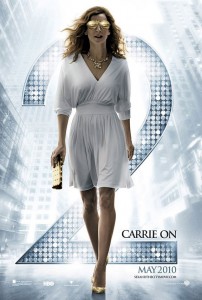 The continuing story of Carrie, Charlotte, Miranda and Samantha as they struggle to manage their love lives, friendships and careers in New York City.
Blake's Take: Male dominated pictures dominate the cinema landscape of May, that is until the end of the month where the female driven giant that is Sex and the City 2 comes out. The first film took in $152 million domestically, and another $263 million overseas, so it is no surprise that the gang is back for a sequel.  The sequel comes almost two years later to the date, and it should see much of the same gross. Attendance might not be as high as the original film, but with the ticket price increases over the past two years the numbers should look pretty damn similar.
This is one of two high profile releases this summer being aimed at women.  The other is of course July's Twilight Saga: Breaking Dawn.  Most likely the Twilight film will be the victor of these two, but Sex and the City should be able to use the lack of female oriented films to its advantage to boost its gross.
Blake's Estimated Final Domestic Gross: $155 million

May 28th
Prince of Persia: Sands of Time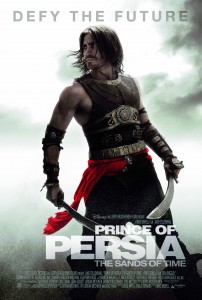 From the team that brought the "Pirates of the Caribbean" trilogy to the big screen, Walt Disney Pictures and Jerry Bruckheimer Films present "Prince of Persia: The Sands of Time," an epic action-adventure set in the mystical lands of Persia. A rogue prince (Jake Gyllenhaal) reluctantly joins forces with a mysterious princess (Gemma Arterton) and together, they race against dark forces to safeguard an ancient dagger capable of releasing the Sands of Time—a gift from the gods that can reverse time and allow its possessor to rule the world.
Blake's Take: If there is one film that I think is going to be a flop in May, it would be Prince of Persia: Sands of Time. I might be wrong, but the general consensus I get from both my friends of the critical world, and my average movie goer friends is, "Meh…".  The trailers for the film have been somewhat boring. The CG in them looks absolutely awful. I was hoping once I saw one on the big screen it would look better, it didn't. As much as I like Jake Gyllenhaal I can't buy him as a Persian prince, especially with an extremely fake British accent.  Although, Gemma Arterton seems poised to make her break soon. Although, she might be stuck in her second overwrought special effects bonanza of the year. At least she'll look good while doing it, right?
I won't put this one down right away though. It does have the huge marketing power of Disney behind it, and it has superstar producer Jerry Bruckheimer to attach his name to it. Is Disney hoping for their next Pirates of the Caribbean style franchise? It should also be noted that director Mike Newell is heading this one. His last entry into a franchise film was 2005's Harry Potter and the Goblet of Fire, which was a great continuation of the series.
Blake's Estimated Final Domestic Gross: $110 million
Micmacs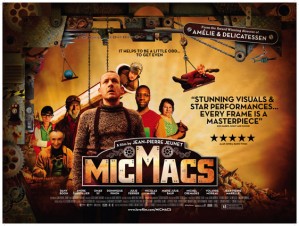 First it was a mine that exploded in the middle of the Moroccan desert. Years later, it was a stray bullet that lodged in his brain… Bazil doesn't have much luck with weapons. The first made him an orphan, the second holds him on the brink of sudden, instant death. Released from the hospital after his accident, Bazil is homeless. Luckily, our inspired and gentle-natured dreamer is quickly taken in by a motley crew of junkyard dealers living in a veritable Ali Baba's cave. The group's talents and aspirations are as surprising as they are diverse: Remington, Calculator, Buster, Slammer, Elastic Girl, Tiny Pete and Mama Chow. Then one day, walking by two huge buildings, Bazil recognizes the logos of the weapons manufacturers that caused all of his misfortune. He sets out to take revenge, with the help of his faithful gang of wacky friends. Underdogs battling heartless industrial giants, our gang relive the battle of David and Goliath, with all the imagination and fantasy of Buster Keaton…
Blake's Take: If you've never seen Amélie, do yourself a favor and rent or buy it. It will make you beyond excited for the release of Micmacs. Why? Well, because it marks the return of director Jean-Pierre Jeunet's whimsical style. The director has his own unique style that is often copied, but never perfected by anyone but himself. Think of him as the French Tim Burton with less gothic tendencies, and a bit more talented.
This is a film that will start out as a limited release, but it could very well take off much like Amélie did back in 2001.Regardless this is a film that will do very well on an international scale, and looks to do well with certain crowds within the United States. The critical buzz on this film has been huge, so expect it to be playing at your local art house theater.
Blake's Estimated Final Domestic Gross: $22 million