Zorro Reboot Will Be A Post-Apocalyptic Adventure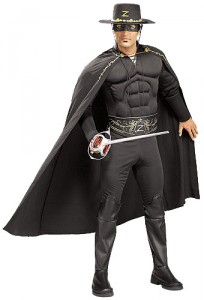 A lot of times I think what it would be like to be a studio head.  Do you just sit and listen to project ideas all day?  If this is the case, do you think that the executives get tired of hearing the words "dark, gritty, and reboot" in the same pitch or do you think they just immediately say yes when they hear those words? 
I personally loved THE MASK OF ZORRO, the 1998 film starring Antonio Banderas and directed by Martin
Campbell.  It was just a fun action film, and Catherine Zeta-Jones looked beautiful in it.  The sequel, LEGEND OF ZORRO, was awful.  But I wouldn't mind taking another adventure with the hero.
ZORRO REBORN is written by Lee Shipman and Brian McGreevy and will be directed by Rpin Suwannath.  Yeah, I haven't heard of him either.  Rpin is a previsualization specialist who has worked on a variety of projects including X-MEN, THE CHRONICLES OF NARNIA, and SUPERMAN RETURNS.  It is said that the production is looking for an upcoming star to play the hero in a post-apocalyptic Mexico.