Young Adult Best Selling Authors Holly Black and Cassandra Clare are Coming to St Louis on May 4!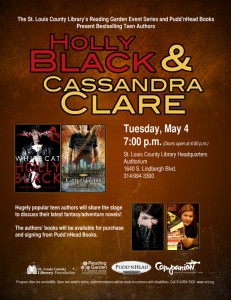 The St. Louis County Library has been having great authors visiting (read our interview with Lisa McMann here). Next week is no exception! Holly Black, author of the popular series "The Spiderwick Chronicles," and Cassandra Clare, author of the New York Times bestselling "Mortal Instruments" series, will be in town on Tuesday, May 4!
Bestselling author Holly Black will be talking about the first installment of her new series, "The White Cat," which is about mobsters, con artists and dark magic. Holly collaborated with her long-time friend, Caldecott award winning artist, Tony DiTerlizzi, to create the bestselling Spiderwick Chronicles. The first two books, The Field Guide and The Seeing Stone were released together in 2003 by Simon & Schuster, with the next three, Lucinda's Secret (2003), The Ironwood Tree (2004) and The Wrath of Mulgarath (2004), following in rapid succession. The Wrath of Mulgarath climbed to #1 on the New York Times bestseller list. The five-book serial has been called "vintage Victorian fantasy" by the New York Post and Time Magazine reported that "the books wallow in their dusty Olde Worlde charm." Holly is the author of Tithe, named an ALA Top Ten Book for Teens; Valiant, named an ALA Best Book for Young Adults, and the recipient of the Andre Norton Award; and Ironside, a New York Times bestseller. For more information on Holly Black, visit her website at blackholly.com.
Cassandra Clare will discuss the third installment in her "Mortal Instruments" series, which is about a secretive race of demon-hunters. The first book, "City of Bones," is about a sixteen-year old girl named Clary Fray, who lives in New York with her mother, an artist. She comes home one night to find her apartment ransacked, her mother gone — and a slavering demon ready to tear off her head. She becomes a part of the secret word of the demon hunters, or Nephilim, and as she does discovers she might be more connected to them than she originally thought. The latest novel, "City of Glass," takes the characters to the demon hunters' exotic home country, Idris. For more information on Cassandra Clare and the "Mortal Instruments" series, visit her website at mortalinstruments.com.
Don't forget to check out the St. Louis County Library on Tuesday, May 4 and hear from these great authors!
Directions to the St. Louis County Library Headquarters: