WWE Monday Night Raw Recap/Review (10/7) – Daniel Bryan, Goldust and Cody Rhodes vs. The Shield, Big Show KOs Triple H
After screwing their viewers out of $55 the night before at a total piece of crap pay per view, WWE needed to respond with a worthy Raw the following Monday. In the end, it was by no means a great Raw, but it at least helped keep interest in some ongoing feuds.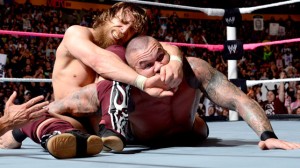 First, let me start by addressing the Battleground debacle. First the WWE loses power at the arena, which would have been better if the power stayed out. Then, we get a main event, which was eerily reminiscent of what WCW used to do back when in the dying days of the company. It was worthless. With the exception of the Rhodes family vs. The Shield, the pay per view was a total waste of time and money. To be honest, I kind of expected it to be, given the previous Raw episodes leading up to it. I am done with Triple H and Stephanie running the company. They may think they know what is good for business, but they do not. They have reduced a superstar who is the largest athlete on the planet, to a crying, babbling, baby. They have taken Daniel Bryan, elevated him to potential face of the company status, only to have him screwed over three different times for the title. With last night's ending to the match, it almost seems that WWE brass has no faith in Bryan, so they are throwing in the Big Show to get into the title hunt. It's a total mess. The WWE had been on a hot streak of pay per views, but Battleground was one of the worst in years. I'm glad I didn't pay for that piece of trash.
On to Raw! We got our usual wasted segments of Fandango doing nothing, and the Los Matadores and 3MB, both worthless tag teams. I could get more excited watching paint dry than the 3MB or Matadores.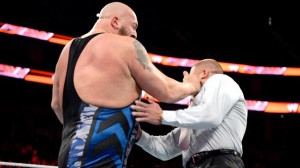 The main question I was hoping to see answered on Raw was why the lame-duck finish at the pay per view. WWE did manage to answer that, putting over Big Show as a baby face. The big man had finally had enough and grew a pair. Daniel Bryan and the Rhodes family did not seem to be hurt by the horrible pay per view. All groups are still getting over quite well with the fans. The ending of Raw was what saved the show. Seeing Triple H finally get his was pretty darn satisfying.
Yes, John Cena is coming back. Excuse me while I vomit. Can't the guy stay gone for a bit longer? It looks like he will be feuding with Alberto Del Rio. I'm so excited, I can hardly contain myself! I'm exaggerating, by the way. I will probably sleep through this feud.
The CM Punk and Ryback feud continued into Monday, which was another wasted segment. Why do we have to see this again? Ryback is boring, plain and simple.
All in all, if you missed Raw, you didn't miss much. There was nothing that was must-see TV. I hate to say it, but I'm not really looking forward to Raw being in St. Louis next week. The WWE has hit a real lull, which is not good during football season. Their ratings are already low. Mix that with poor storylines, and it's not going to be good for business. I wouldn't be surprised to see Vince McMahon back on Raw shortly. Triple H and Stephanie just aren't getting the job done. Something needs to change.
Photos © WWE.