'Eastbound and Down' Season 4: Episode 1 – "Chapter 22" (Review)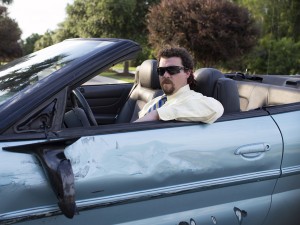 When fans of Eastbound and Down last saw Kenny Powers, most probably thought it was the end of the show. Hell, I was shocked to hear the show was returning for a 4th season. Star, Danny Mcbride had even gave a Rolling Stone interview stating that the show had run its course. Regardless if Mcbride has tired of the iconic character, Kenny Powers, the show returned on Sunday night.
"Chapter 22," ties up all the loose ends created from the brilliant final episode of last year, that saw Powers fake his own death to walk away from a life of sports stardom to begin a life with his love April. Years later, Kenny finds himself a respectable family man. He works at a car rental shop, while April sells homes. Kenny seems to have gotten on the straight and narrow, much to the dislike of his fans. Don't worry, it doesn't last. We see that Powers hasn't lost his flair for vulgar language and crude humor. In once scene, he makes fun of his infant son for being scared during The Human Centipede. Later, he tells April that his son "can go f' himself" when he is throwing a tantrum because he is tired of leading a normal life. Yes, Powers is still a horrible person, but doesn't realize it.
After a chance run-in with former a Atlanta teammate, played by the hilarious Ken Marino, Powers decides to ditch the family-man lifestyle and hang out with some former athletes. After partying the night away with his new athlete friends, a hung over Powers wakes up the next morning with a new and improved bad attitude.
Powers quits his job, after destroying the rental Chrysler Sebring he is driving to work, and then punching his boss. To end the show, we see Powers smoking weed, popping pills, and doing enough cocaine to fuel the entire 86' Mets roster. There is no doubt that the old Kenny Powers is back, and by the looks of it, despite cutting the brass balls off the back of his truck, this season is going to be one hell of a ride.