March 24, 2015
/ by
admin
Enter for your chance to receive a pass for two to a special advance screening!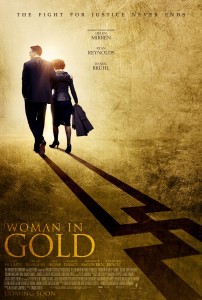 Academy Award winner Helen Mirren stars in the incredible story of Maria Altmann, a Jewish refugee who is forced to flee Vienna during World War II. Decades later, determined to salvage some dignity from her past, Maria has taken on a mission to reclaim a painting the Nazis stole from her family: the famous Lady In Gold, a portrait of her beloved Aunt Adele. Partnering with an inexperienced but determined young lawyer (Ryan Reynolds), Maria embarks on an epic journey for justice 60 years in the making.
Cast: Helen Mirren, Ryan Reynolds, Daniel Bruhl, Katie Holmes, Charles Dance, Elizabeth McGovern, Frances Fisher
Director: Simon Curtis
In order to enter the contest, e-mail us and tell us why you can't wait to see the movie!
No purchase necessary. Void where restricted or prohibited by law. At the screening seating is not guaranteed and is available on a first-come, first-served basis. Refer to screening pass for further restrictions. Screening pass winners will be drawn at random and notified via email. Limit one (admit-two) pass per person. Must be age 13 or over to enter.
Screening will take place Tuesday, March 31th at the Galaxy 14 Cine
WOMAN IN GOLD Opens April 3