Wizard World St. Louis Comic Con Sunday Ticket Package for $39 – Includes Three Exclusive Lithographs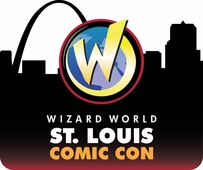 Still haven't bought your tickets for Wizard World St. Louis Comic Con next weekend? LivingSocial is offering a great deal for a Sunday ticket package, which includes one adult admission and three exclusive lithographs – by artists Mike Grell, Arthur Suydam, and Michael Golden. The three of them will also autograph the St. Louis exclusives, included in the price. The event will take place March 22-24 at the America's Center in downtown St. Louis.
In addition to the ticket for Sunday, as well as the lithographs, two children's admissions for ages 10 and under are included. For tickets to Friday and Saturday, or more information about Wizard World St. Louis Comic Con, visit wizardworld.com.
There will be no shortage of stars in attendance from the comic, television and movie industries. Notable guests include Stan Lee, Billy Dee Williams, Tom Felton, Laurie Holden, Randy Orton, James Marsters, Juliet Landau, Henry Winkler, Lou Ferrigno, James Hong, Dean Cain and many others. Check out the full show schedule here.
Artist Mike Grell is best known for his work on Green Lantern/Green Arrow, Warlord, and Jon Sable Freelance. Arthur Suydam is known as "The Zombie King," due to his work on the highly successful "Marvel Zombies" series. His art has appeared on the covers of Deadpool, Batman, Wolverine, Fantastic Four, The Incredible Herc, X-Men, Ghost Rider, Thor, Spider Girl, Black Panther, Oz Chronicles and more. Michael Golden has done numerous projects with both DC and Marvel, including Micronauts, Batman, Superman, Avengers, Daredevil and many others.
Click here for what to expect at St. Louis Comic Con 2013.
---
To take advantage of the limited time Sunday ticket package to Wizard World St. Louis Comic Con, click here