Win Passes to "Youth in Revolt" at the St. Louis Advance Screening
ReviewSTL invites you to enter to win passes to the St. Louis advance screening of "Youth in Revolt"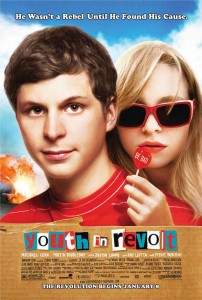 Enter for your chance to win a pass good for two!
OPENS NATIONWIDE FRIDAY, JANUARY 8TH
Synopsis:
As a teenage fan of Albert Camus and Jean-Luc Godard, Nick Twisp (Michael Cera) is most definitely out of his element when his mother and her boyfriend move the family to a trailer park. When a pretty neighbor named Sheeni (Portia Doubleday) plays records by French crooners, it's love at first sight for frustrated virgin Nick. Upon learning that Sheeni is already dating someone, Nick launches a hilarious quest to find his way into Sheeni's heart, and bed.
In order to enter the contest, simply leave a comment at the bottom telling us your favorite Micheal Cera role and quote. Winners will be chosen at random and notified via e-mail. NO PURCHASE NECESSARY.
Please note that winning passes to "Youth in Revolt" does not guarantee admission to the film. You must arrive early as seating is first-come, first-served. It is usually safe to arrive at least 1 hour or more before show time!