Win Passes to "It's Complicated" at the St. Louis Advance Screening
ReviewSTL invites you to enter to win passes to the St. Louis advance screening of "It's Complicated"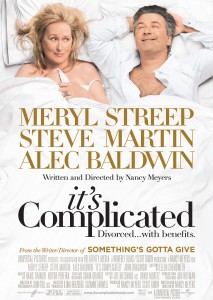 Enter for your chance to win a pass good for two!
OPENS NATIONWIDE FRIDAY, DECEMBER 25TH
Synopsis:
Jane is the mother of three grown kids, owns a thriving Santa Barbara bakery/restaurant and has – after a decade of divorce – an amicable relationship with her ex-husband, attorney Jake. But when Jane and Jake find themselves out of town for their son's college graduation, things start to get complicated. An innocent meal together turns into the unimaginable – an affair. With Jake remarried to the much younger Agness, Jane is now, of all things, the other woman. Caught in the middle of their renewed romance is Adam, an architect hired to remodel Jane's kitchen. Healing from a divorce of his own, Adam starts to fall for Jane, but soon realizes he's become part of a love triangle. Should Jane and Jake move on with their lives, or is love truly lovelier the second time around? It's–complicated.
In order to enter the contest, simply leave a comment at the bottom of the page with why you want to see the movie. Winners will be chosen at random and notified via e-mail. NO PURCHASE NECESSARY. Screening is Monday, December 21 at WEHRENBERG RONNIE'S 20 CINE.
Please note that winning passes to "It's Complicated" does not guarantee admission to the film. You must arrive early as seating is first-come, first-served. It is usually safe to arrive at least 1 hour or more before show time!
Good luck! We hope to see you at the movie.