The Best 10 Films of 2009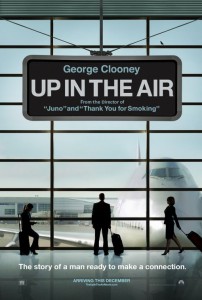 UP IN THE AIR
Ryan Bingham (George Clooney) is a corporate downsizing expert whose cherished life on the road is threatened just as he is on the cusp of reaching ten million frequent flyer miles and just after he's met the frequent-traveler woman of his dreams.
UP IN THE AIR is a film that is truly fascinating from beginning to end. So much truth can be found in the way it shows just how complicated life can be. George Clooney's character seems like he has it all together, but one tiny change can have a huge impact on his entire life. As we follow Ryan Bingham around the country, laying off employees that management chooses not to face, it becomes impossible not to embrace this unlikely hero. George Clooney's on-screen charm and charisma shines, in a film that allows the audience to sit back, relax, and just enjoy the flight.
---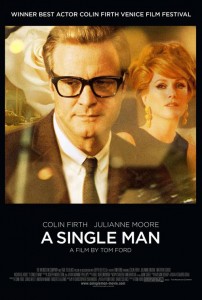 A SINGLE MAN
In Los Angeles 1962, at the height of the Cuban missile crisis George Falconer, a 52 year old British college professor is struggling to find meaning to his life after the death of his long time partner, Jim. George dwells on the past and cannot see his future as we follow him through a single day, where a series of events and encounters, ultimately lead him to decide if there is a meaning to life after Jim. George is consoled by his closest friend Charley, a 48 year old beauty who is wrestling with her own questions about the future. A young student of George's, Kenny, who is coming to terms with his true nature, stalks George as he feels in him a kindred spirit. A romantic tale of love interrupted the isolation that is an inherent part of the human condition and ultimately the importance of the seemingly smaller moments in life.
This beautifully shot film tells the story of love, friendship, and loss. First time director Tom Ford, a major player in the world of fashion, proves that he has what it takes to make it as a filmmaker. The movie tackles difficult subject matter, and does so in an extraordinarily delicate way. Colin Firth gives the best performance of his career as the main character in the film, who teaches us just how valuable human life is.
---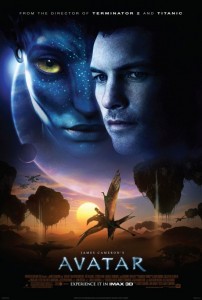 AVATAR
AVATAR takes us to a spectacular world beyond imagination, where a reluctant hero embarks on an epic adventure, ultimately fighting to save the alien world he has learned to call home. James Cameron, the Oscar-winning director of "Titanic," first conceived the film 15 years ago, when the means to realize his vision did not exist yet. Now, after four years of production, AVATAR, a live action film with a new generation of special effects, delivers a fully immersive cinematic experience of a new kind, where the revolutionary technology invented to make the film disappears into the emotion of the characters and the sweep of the story.
We enter the alien world through the eyes of Jake Sully, a former Marine confined to a wheelchair. But despite his broken body, Jake is still a warrior at heart. He is recruited to travel light years to the human outpost on Pandora, where corporations are mining a rare mineral that is the key to solving Earth's energy crisis. Because the atmosphere of Pandora is toxic, they have created the Avatar Program, in which human "drivers" have their consciousness linked to an avatar, a remotely-controlled biological body that can survive in the lethal air. These avatars are genetically engineered hybrids of human DNA mixed with DNA from the natives of Pandora… the Na'vi.
Reborn in his avatar form, Jake can walk again. He is given a mission to infiltrate the Na'vi, who have become a major obstacle to mining the precious ore. But a beautiful Na'vi female, Neytiri, saves Jake's life, and this changes everything. Jake is taken in by her clan, and learns to become one of them, which involves many tests and adventures. As Jake's relationship with his reluctant teacher Neytiri deepens, he learns to respect the Na'vi way and finally takes his place among them. Soon he will face the ultimate test as he leads them in an epic battle that will decide nothing less than the fate of an entire world.
AVATAR showcases the most impressive computer generated animation and special effects to be seen on the big screen. Throughout most of the film, you feel as if you have left your seat in the theater and traveled to the breathtaking planet of Pandora. The use of 3D and new camera technology that was invented for AVATAR pays off, as the extra dimension adds depth to the story and its characters. The film, which is said to be the most expensive movie of all time, lives up to the hype and is worth every single penny. AVATAR is one that is not to be missed on the big screen.
---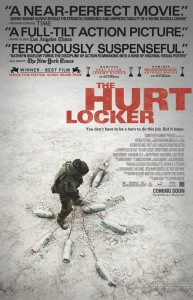 THE HURT LOCKER
In the summer of 2004, Sergeant J.T. Sanborn and Specialist Owen Eldridge of Bravo Company are at the volatile center of the war, part of a small counterforce specifically trained to handle the homemade bombs, or Improvised Explosive Devices (IEDs), that account for more than half of American hostile deaths and have killed thousands of Iraqis. A high-pressure, high-stakes assignment, the job leaves no room for mistakes, as they learn when they lose their team leader on a mission. When Staff Sergeant William James takes over the team, Sanborn and Eldridge are shocked by what seems like his reckless disregard for military protocol and basic safety measures. And yet, in the fog of war, appearances are never reliable for long. Is James really a swaggering cowboy who lives for peak experiences and the moments when the margin of error is zero – or is he a consummate professional who has honed his esoteric craft to high-wire precision? As the fiery chaos of Baghdad swirls around them, the men struggle to understand and contain their new leader long enough for them to make it home. They have only 38 days left in their tour of Iraq, but with each new mission comes another deadly encounter, and as James blurs the line between bravery and bravado, it seems only a matter of time before disaster will strike.
THE HURT LOCKER is one of the most suspenseful movies of all time. Almost every scene will have the audience sitting on the edge of their seats. The movie is filmed magnificently, and really shows you what it feels like to be stuck in the Middle East during the middle of a war. As you step into the shoes of three soldiers that are trying to get through the last weeks of duty, you are taken on a journey doesn't always go where you want it to – but such is life.
---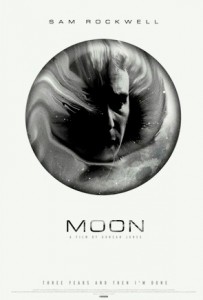 MOON
It is the near future. Astronaut Sam Bell is living on the far side of the moon, completing a three-year contract with Lunar Industries to mine Earth's primary source of energy, Helium-3. It is a lonely job, made harder by a broken satellite that allows no live communications home. Taped messages are all Sam can send and receive. Thankfully, his time on the moon is nearly over, and Sam will be reunited with his wife, Tess, and their three-year-old daughter, Eve, in only a few short weeks. Finally, he will leave the isolation of "Sarang," the moon base that has been his home for so long, and he will finally have someone to talk to beyond "Gerty," the base's well-intentioned, but rather uncomplicated computer. Suddenly, Sam's health starts to deteriorate. Painful headaches, hallucinations and a lack of focus lead to an almost fatal accident on a routine drive on the moon in a lunar rover. While recuperating back at the base (with no memory of how he got there), Sam meets a younger, angrier version of himself, who claims to be there to fulfill the same three year contract Sam started all those years ago. Confined with what appears to be a clone of his earlier self, and with a "support crew" on its way to help put the base back into productive order, Sam is fighting the clock to discover what's going on and where he fits into company plans.
MOON is one of the most underrated films of the year. Sam Rockwell gives an outstanding performance as astronaut Sam Bell. The movie takes place entirely in the same place – a space station on the moon. Much of the time on-screen is spent following Sam by himself, yet it never fails to keep your attention. His struggle to deal with the events that unfold prove for an extremely interesting film that should not be missed.
---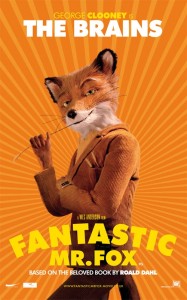 FANTASTIC MR. FOX
Mr and Mrs Fox live an idyllic home life with their son Ash and visiting young nephew Kristopherson. But after 12 years, the bucolic existence proves too much for Mr Fox's wild animal instincts. Soon he slips back into his old ways as a sneaky chicken thief and in doing so, endangers not only his beloved family, but the whole animal community. Trapped underground and with not enough food to go around, the animals band together to fight against the evil Farmers — Boggis, Bunce and Bean — who are determined to capture the audacious, fantastic Mr Fox at any cost.
FANTASTIC MR. FOX is a whole lot of fun – from the impressive cast, to every tiny detail in the stop-motion world created by Wes Anderson. George Clooney exudes the same charisma on-screen in an animated role as he does in person. The main characters in the film are comprised of different wild animals, and provide for a wide range of laughs throughout. The premise of the film is always entertaining, and much enjoyment is to be found in the way that Wes Anderson shows the similarities between the human and animal worlds.
---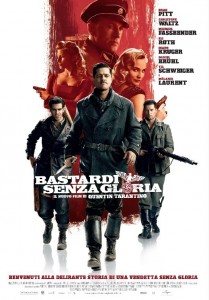 INGLORIOUS BASTERDS
In German-occupied France, Shosanna Dreyfus witnesses the execution of her family at the hand of Nazi Colonel Hans Landa. Shosanna narrowly escapes and flees to Paris, where she forges a new identity as the owner and operator of a cinema. Elsewhere in Europe, Lieutenant Aldo Raine organizes a group of Jewish soldiers to engage in targeted acts of retribution. Known to their enemy as "The Basterds," Raine's squad joins German actress and undercover agent Bridget Von Hammersmark on a mission to take down the leaders of The Third Reich. Fates converge under a cinema marquee, where Shosanna is poised to carry out a revenge plan of her own.
INGLORIOUS BASTERDS is one of the best films that Quentin Tarantino has ever directed. The storytelling and dialogue are amongst the most intriguing that have been seen, and the cinematography is his best looking yet. In the film, Tarantino takes a subject matter that is very difficult – and turns it into something that is easy to watch. Brad Pitt and Christoph Waltz are amongst the best performances of the film, which keeps the attention of audiences from beginning to end.
---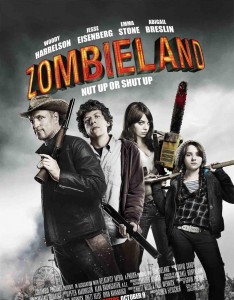 ZOMBIELAND
Two men have found a way to survive a world overrun by zombies. Columbus is a big wuss — but when you're afraid of being eaten by zombies, fear can keep you alive. Tallahassee is an AK-totin', zombie-slayin' badass whose single determination is to get the last Twinkie on earth. As they join forces with Wichita and Little Rock, who have also found unique ways to survive the zombie mayhem, they will have to determine which is worse: relying on each other or succumbing to the zombies.
ZOMBIELAND is pure guilty cinematic pleasure. In a world that has been overran by zombies, the main characters bring levity to their situation while trying to survive. The movie offers pure entertainment that is sure to extract laughs time and time again. It is one of those movies that you want to watch again right after it ends. Woody Harrelson and Jesse Eisenberg are at their best in this comedy that never fails to be a whole lot of fun.
---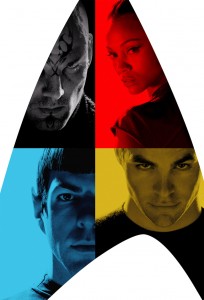 STAR TREK
The fate of the galaxy rests in the hands of bitter rivals. One, James Kirk, is a delinquent, thrill-seeking Iowa farm boy. The other, Spock, was raised in a logic-based society that rejects all emotion. As fiery instinct clashes with calm reason, their unlikely but powerful partnership is the only thing capable of leading their crew through unimaginable danger, boldly going where no one has gone before.
STAR TREK is the movie that reboots the entire franchise. And it does it in a way that keeps many of the characters in tact, while making them much more modern. The film has taken a series that has only a certain following of fans, and made it into a commercial success. STAR TREK is non-stop action and adventure, and is the start of what should be many more great movies to come.
---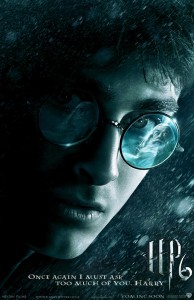 HARRY POTTER AND THE HALF-BLOOD PRINCE
Voldemort is tightening his grip on both the Muggle and wizarding worlds and Hogwarts is no longer the safe haven it once was. Harry suspects that dangers may even lie within the castle, but Dumbledore is more intent upon preparing him for the final battle that he knows is fast approaching. Together they work to find the key to unlock Voldemort's defenses and, to this end, Dumbledore recruits his old friend and colleague, the well-connected and unsuspecting bon vivant Professor Horace Slughorn, whom he believes holds crucial information. Meanwhile, the students are under attack from a very different adversary as teenage hormones rage across the ramparts. Harry finds himself more and more drawn to Ginny, but so is Dean Thomas. And Lavender Brown has decided that Ron is the one for her, only she hadn't counted on Romilda Vane's chocolates! And then there's Hermione, simmering with jealousy but determined not to show her feelings. As romance blossoms, one student remains aloof. He is determined to make his mark, albeit a dark one. Love is in the air, but tragedy lies ahead and Hogwarts may never be the same again.
It seems as though the films in the HARRY POTTER series keep getting better and better as they are go. The sixth film is no exception to this rule. The movie is close to flawless, as the filming and story are always entertaining. Whether or not you are a fan of the books should not be an issue for this movie. Audiences will find a very well polished film, featuring the best acting and visuals so far.