Win FREE Passes to "LOVE HAPPENS" at the St. Louis Advance Screening
Win FREE passes to the St. Louis advance screening of "LOVE HAPPENS"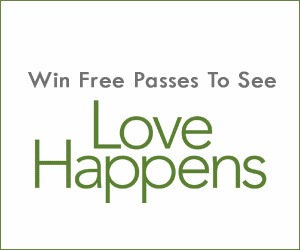 Enter for your chance to win a pass good for two!
NO PURCHASE NECESSARY
OPENS NATIONWIDE SEPTEMBER 18th!
Please note that winning passes to 'LOVE HAPPENS' does not guarantee admission to the film. You must arrive early as seating is first-come, first-served. It is usually safe to arrive at least 1 hour or more before show time!
Synopsis:
When a self-help author arrives in Seattle to teach a sold-out seminar, he unexpectedly meets the one person who might finally be able to help him help himself. Dr. Burke Ryan is on the precipice of a major multimedia deal, but the therapist who asks his patients to openly confront their pain is secretly unable to take his own advice. Eloise Chandler has sworn off men and decided to focus on her floral business. However, when she meets Burke at the hotel where he's speaking, there is an instant attraction. But will two people who have met the right person at exactly the wrong time be able to give love another chance? As each struggles with the hurt of love and loss, they realize that in order to move forward, they need to let go of the past. And if they can, they'll find that, sometimes, love happens when you least expect it.
In order to enter the contest, simply leave a comment below with your favorite romantic comedy and why you love it. Winners will be randomly drawn, and notified via e-mail.
Screening is Tuesday, September 15. Good luck! We hope to see you at the movie.
WATCH THE TRAILER