Win FREE Passes to 'WHITEOUT' at the St. Louis Advance Screening
ReviewSTL.com invites you and a guest to attend a special advance St. Louis screening of 'WHITEOUT'.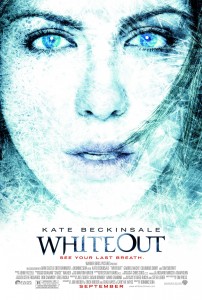 Enter for your chance to win a pass good for two!
NO PURCHASE NECESSARY
OPENS NATIONWIDE SEPTEMBER 11th!
Please note that winning passes to 'WHITEOUT' does not guarantee admission to the film. You must arrive early as seating is first-come, first-served. It is usually safe to arrive at least 1 hour or more before show time!
Synopsis:
A U.S. Marshall tracking a vicious murderer through the Antarctic must locate the killer before the sun sets for six months, or risk being trapped in the dark with the madman for months on end in director Dominic Sena's adaptation of the graphic novel series by Greg Rucka. U.S. marshall Carrie Stetko (Kate Beckinsale) has been stationed at Antarctica's South Pole research base for two years, and now after turning in her resignation she's looking forward to finally going home. The last plane out leaves in just three days, and just after that Antarctica will not see the sun again for another 24 weeks. Then, just 72 hours before she is set to escape the coming darkness, a body is discovered in the ice — prompting the first murder investigation ever to take place on the desolate Antarctic Circle continent. Little does Carrie realize that she's suddenly been thrust into a mystery over 60 years in the making, and that the killer is ready to strike again in order to protect a grim secret. Now, as the death toll starts to rise, loyalties shift, and a massive series of whiteouts blow bitter winds across the frozen landscape, the U.S. marshall who wanted nothing more than to escape the cold must work around the clock to catch a killer before the blinding white snow gives way to the deadly darkness of winter.
In order to enter the contest, simply leave a comment below with the answer to this question, "If stranded in Antarctica for 6 months, what 3 things would you want to have with you to survive and why?". Winners will be randomly drawn, and notified via e-mail.
Good luck! We hope to see you at the movie.
WATCH THE TRAILER