Will Christian Bale Be The Gunslinger In Stephen King's "The Dark Tower"?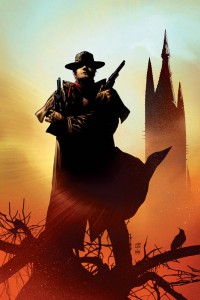 First off let me say that I love Christian Bale.  The man has turned in outstanding performances for years, and I'm completely stoked for him to receive his first Oscar statue.  Also, he plays Batman which is easily my favorite superhero franchise.  Double bonus.  So I am okay with him playing any part he wants to.  But is this a part that he wants to?
I have never read any of The Dark Tower books.  I have the first two prequel graphic novels but have yet to read them.  I just know that Ron Howard is very excited about the project.  The man couldn't help but elaborate on this excitement while he was doing press for The Dilemma.  He has quite the full plate.  His plan is a trilogy of films with two six part mini series to bridge the gaps between films.  Thats a lot to dedicate to one project. 
The biggest speculation right now is who will play the leads.  While names like Javier Bardem and Viggo Mortensen have been tossed about to play the lead character Roland Deschain, the NY Post is reporting that Christian Bale is at the top of both Ron Howard's and Stephen King's list.  Again, I don't have a problem with this at all and think he would be great in the role.  The only problem I see is the commitment to the project.
Do you think Bale would want to be tied down to a project this large for this long?  Maybe he does, but it strikes me as an odd choice for a man who loves to delve into different characters.
What do you think?  Is Bale right for the part?  Would you like to see someone else?