Where to See Christmas Lights Around St. Louis (2013)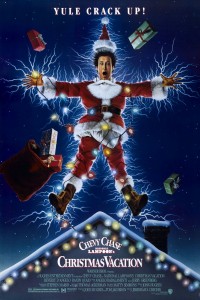 I believe that we all have a little Clark Griswald in us, but may not be crazy enough to decorate our homes like he did in Christmas Vacation. If that's the case, don't worry because there are enough holiday light displays in the St. Louis area to keep you busy until the end of the holiday season.
Here is a rundown of several of the popular light displays in the St. Louis area:
Santa's Magical Kingdom
Better bring the eggnog if you plan on making it through this 35 acre light display. Jellystone Park in Eureka is home to this gigantic display of Christmas goodness. While in the park, you can see Santa's flying reindeer, take a trip through Candy Cane Village, or even see the Waterfall of Lights. Don't want to waste the gas driving? No problem, you can take an old fashioned wagon ride through the park to see the display of lights. Once you finish your journey through Santa's Magical Kingdom, head over to Kringle's General Store. Santa's Magical Kingdom is open from 5:30 p.m. to 10:30 p.m., Sunday through Thursday. On Friday and Saturday, hours are 5:30 p.m. to 11 p.m. Admission is $20 per car or $12 for a wagon ride. Santa's Magical Kingdom will be open until January 5.
Macy's Holiday Festival of Lights
Take your friends and family downtown to Kiener Plaza to see the Christmas tree and light display. It may not be as big of a display as some, but it's free.
Way of Lights
One of the most popular light displays in the area is The Way of Lights at Our Lady of the Snows Shrine in Belleville, Il.  Families can gather here to see more than a million lights, which are used to tell the story of Jesus' birth. Visitors to the display have the choice to drive or take a carriage ride. Along with the light display, you can also see a laser light show, take a camel ride and look at an indoor Christmas tree display. There is also an interactive play area for kids. While admission to see the light display is free, there is a charge for the laser show, camel rides and other attractions. Donations are gladly accepted as well. The Way of Lights is open from 5 p.m. to 9 p.m. The Way of Lights is open until January 3.
AB Brewery Lights
Anheuser-Busch isn't just about beer. The company has not only improved it's holiday light display, but expanded it as well. Located near Soulard, AB has decorated the brewery complex with thousands of lights. While attending, you can hear live music, huddle around a fire pit, and get free samples of AB products on Friday and Saturday. Admission and parking is free for the event. AB Brewery Lights goes from 6 p.m. to 9 p.m. until Dec. 28.
Garden Glow at Missouri Botanical Garden
This is a new display for 2013. Botanical Gardens will be decorated with hundreds of thousands of lights. Visitors will be able to walk through the light display, and take in Victorian Christmas decorations at Tower Grove House. Garden Glow will also feature live holiday music, along with snacks and shopping. It is open most evenings during the Christmas season from 5 p.m. to 9 p.m. After December 19, hours will extend until 10 p.m. Cost for adults is $16, while children are $10. The display will run until Jan. 4.
Holiday Night Lights
Take a drive through Rotary Park in Wentzeville, Mo. and check out this beautiful light display that is a mile-long. The display is open from 6 p.m. to 10 p.m. on Thursday-Sunday until Dec. 11. After Dec. 11, the display will be open nightly except on Christmas. The display will remain open until Dec. 30. Admission is $8 for cars with up to six people, and $1 per person for vehicles with seven or more people.
Wild Lights at the St. Louis Zoo
If you love the zoo and you love Christmas, this is right up your alley. Walk through exhibits, as they are decorated with more than 500,000 lights. Adults can get some shopping done at the Holiday Zootique, while kids are treated to holiday stories. Wild Lights is open from 5:30 p.m. to 8:30 p.m. Tickets are $4 for Zoo members and $5 for non-members. Children under two get in free. There is also plenty of free parking at the Zoo's South Lot. The exhibit will run from Dec. 20-30.
Winter Wonderland at Tilles Park
This will mark the 28th year for Tilles Park being turned into a holiday exhibit. It is run by employees of the St. Louis County Parks Department. While you have the option of driving through the display, the best way to take in the scenery is with a horse-drawn carriage ride. Open daily from 5:30 p.m. to 9:30 p.m., Winter Wonderland charges $10 per car. Tickets for carriage rides can be purchased through MetroTix. Winter Wonderland runs until Jan. 1.